Nov 3rd 2020
A Guide to Christmas Card Imagery and What It Means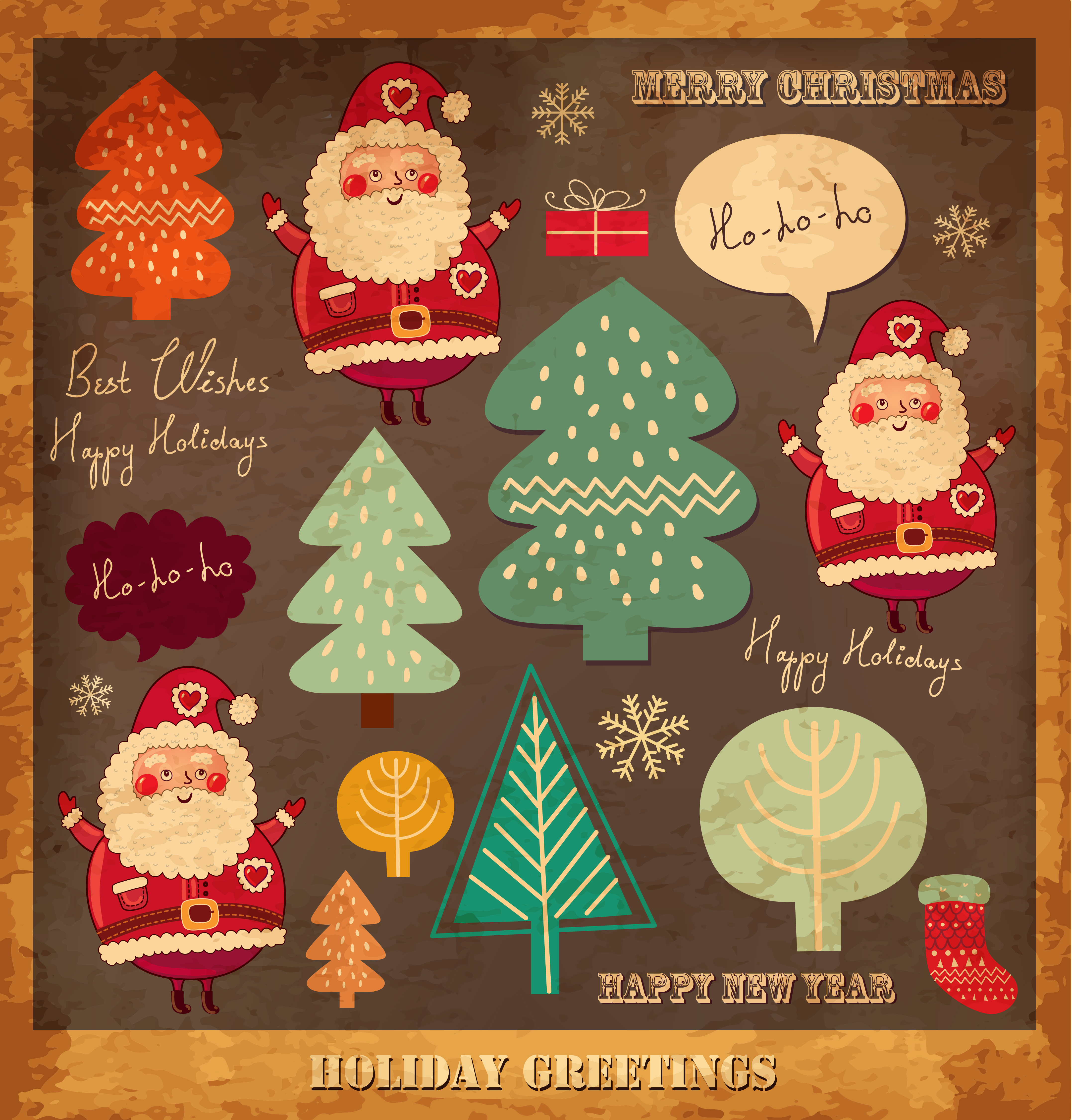 Christmas cards over the centuries have tended to showcase the figure of Santa Claus and the evergreen tree decorations, gifts and specialty foods associated with the observance of this religious and cultural holiday. Learn more about design features and images to include on personalized Christmas cards this holiday season.
Historical Christmas Cards
The earliest commercial Christmas cards were made in the mid-to-late nineteenth century. Cards made by Sir Henry Cole featured an illustration of a family celebrating the holiday at the dinner table surrounded by depictions of people helping the poor.
Historical Christmas cards featured a variety of similar designs. Many classic card covers feature Saint Nicholas, who would become popularly known as Santa Claus. Other common designs featured women and children trimming trees or engaging in other seasonal activities or observances
British Christmas cards often feature robins. The bold color of these red birds matches Royal Mail uniforms from back in the 1880s. Postmen were called "robins" and the cards and presents they brought often bore the likeness of birds of a similar, festive shade. Red birds stand out against the snow and are of a color frequently associated with the holiday, and so the popularity of cards that depict red birds has since spread around the world.
Christmas cards began being produced commercially in the United States during the late nineteenth century. The cards sold over the next century often had animated covers, though the introduction and improvement of photography equipment has also led to a rise in popularity of photo Christmas cards.
Modern Christmas Card Designs
Christmas cards with cartoon or drawn covers remain popular to this day. Contemporary printing also allows for a wide range of photo realistic and stylized designs that blend textures or have laser-cut features. Many of the cards feature the holiday and seasonal motifs that are similar to those featured on traditional cards for decades.
Photographic Christmas cards rose to popularity in the late twentieth century. This style of card is particularly appealing because it has a very personal touch and is unique. Recipients of photo cards are more likely to keep these cards than other designs, particularly when they feel a sentimental connection to the sender.
Imagery for Personalized Christmas Cards
Photo cards are the most personalized greeting cards. A photograph of the sender's choice is the main feature of these cards. Some card designs also feature festive borders. If you plan to take a photograph, consider a wintery backdrop or festive holiday props to convey a holiday theme to card recipients.
Other types of personalized cards may feature preset graphics. Select a design with the images that resonate with your holiday hopes for every recipient on your mailing list. Some professional senders prefer business holiday cards or cards that have a season's greetings message, as the majority of recipients can appreciate these greetings.
How can I personalize Christmas cards?
Pick your favorite Christmas card from a large selection of greeting card designs. Some designs leave room to print the name of your business on the cover or are die-cut to reveal a logo inside. Customize the inside of cards with a message, signature, sender name and a charity line.
Which images usually appear on Christmas cards?
Christmas cards often combine imagery associated with the popular mythology of Santa Claus, the custom of decorating evergreen trees and winter seasonal imagery. A red and green color scheme is typically associated with Christmas. General holiday cards often tend to focus on seasonal imagery or have funny or stylish designs.
Is there any unique Christmas card imagery?
Some Christmas cards feature custom or less common designs. You may be interested in sending occupational Christmas cards that are specific to your trade or cards with striking cover images. Browse an extensive selection of Christmas card designs or consider ordering a photo card to send completely unique greeting cards.
What are the best selling business Christmas cards?
The most popular Christmas cards are classic designs featuring festive color schemes, holiday decorations and seasonal imagery. Personal senders may prefer to send cards with their favorite holiday imagery. Businesses may prefer conventional holiday cards, seasonal greeting cards or other designs that can be appreciated by most mailing list recipients.
Can I send holiday or seasonal cards?
Some business owners prefer to send cards with happy holidays or season's greeting cover and interior messages instead of Christmas cards. Cards that have a more general message may be suitable for all of the recipients on any mailing list, regardless of which holidays they celebrate during the winter season.
It is possible to draw on a long history of holiday imagery when designing personalized Christmas cards. Select cards with preset covers or create your own photo greeting card design. A festive color scheme and depictions of Christmas trees, decorations and gifts set cards for this holiday apart from other greetings.