Mar 29th 2022
Every Small Business Needs to Send Christmas Cards

As "big box" stores and massive distribution centers flood the market with products that are cheap, convenient, and easy to buy, small businesses must stay competitive. Set yourself apart and make your products and services desirable by offering your customers personalized service with thoughtful touches. Sending out business Christmas cards can help you do just that. But don't be content with sending out a mass-mailing and neglect going the extra mile — you can use this simple gesture to build trust and deepen relationships with your loyal clientele.
1. Spell Names Correctly and Send Them to the Right People
Misspelled names can inadvertently send the message that you don't really know your clients, even if you are sending out custom Christmas cards, so double-check your spelling before mailing them out. Make sure to include their names inside the card (not just on the envelope) and write them by hand. When you're sending cards to vendors or other businesses, see that the point person your business has been communicating with receives a card along with the owner of the company. It's not about impressing the people in charge, but building and maintaining relationships at every level.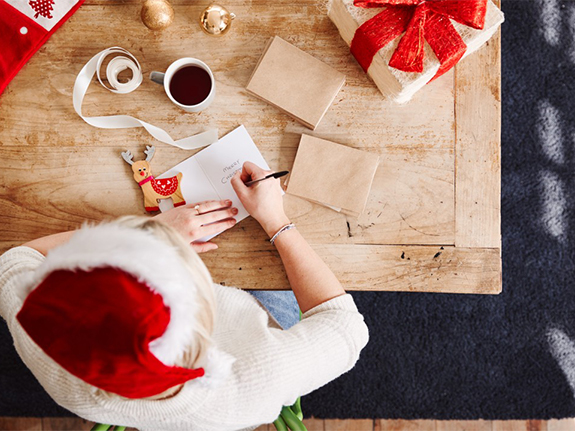 2. If At All Possible, Sign Your Cards Yourself
Personally-signed business Christmas cards show your customers and vendors that they are worth the time it took to sign them yourself. If that means you need to start a month ahead so you can get them all done by the first week of December, it will be well-worth your effort. Your business depends on your customer's loyalty, and this simple gesture speaks volumes about how much you value them.
3. Do Not Make a Sales Pitch in Your Cards
Though sending personalized cards is undoubtedly good for business, this is not the time to push products, advertise sales, or include any type of suggestive selling. Doing so makes your card feel insincere and inauthentic, which can hurt your business in the long run. Use this opportunity to show your gratitude and appreciation, just as you would when sending out business thank you cards.
4. Be Inclusive of Other Faiths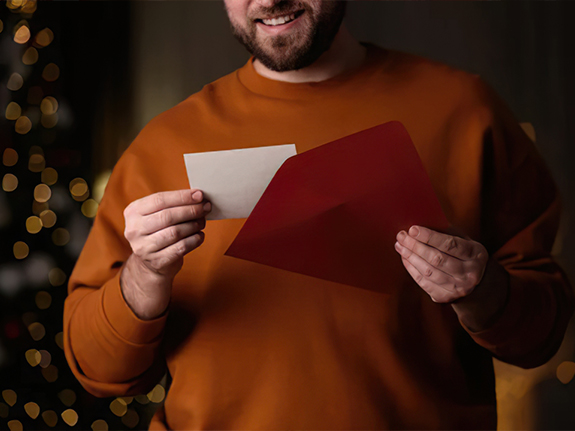 Business Christmas cards shouldn't be aimed only at Christians unless that is your client base. Choose an inscription that captures the spirit of the season while including people of other faiths:
"Wishing You Peace and Joy This Holiday Season."
"Our Best Wishes for a Delightful Holiday and Prosperous New Year."
"Expressing Our Sincere Appreciation for You This Season and Always."
"Seasons Greetings and Best Wishes for the Coming Year."
"May This Holiday Season Find You Happy, Healthy, and Surrounded by Those You Love."
5. Make Your Card Memorable
Look for a design that will make your company stand out. You can choose a humorous card, for instance, or pick a design that features beautiful graphics or text. If you want to make your card unique and special, you can create your own custom design. Don't be afraid to be different!
Whatever suits your company and clientele best, Cards For Causes can supply your business with great-looking, affordable Christmas cards with pre-printed or custom text inside. Browse our huge selection or reach out if you have questions or special requests.
How many designs for business Christmas cards do you carry?
Cards for Cards has a massive selection — nearly 500 different designs — all of which can be customized with your text and photos inside.
Can I design my own card?
Yes! Send us a message and tell us what you have in mind, and we can work together to create something special. There is a minimum order of 100 for this type of card.
How long will it take for me to receive my order?
After you place your order, we require 4-7 days of production time to print your custom cards. We use UPS for 1-, 2-, or 3-day delivery anywhere in the United States and Canada and offer international shipping as well.
What causes do you support? How much of my money will go to charity?
Cards for Causes donates 20% of your purchase to the charity of your choice. Once you personalize your card, you will choose from a menu of eight categories to see a wide variety of charities that fall under each heading.
Can I nominate my own charity?
You can fill out a form here to submit a charity of your own choice. It must be a 501c3 organization and approved by Cards for Causes, after which it will appear in the dropdown list and be available to receive donations.