Aug 1st 2022
4 Reasons to Send Business Thanksgiving Cards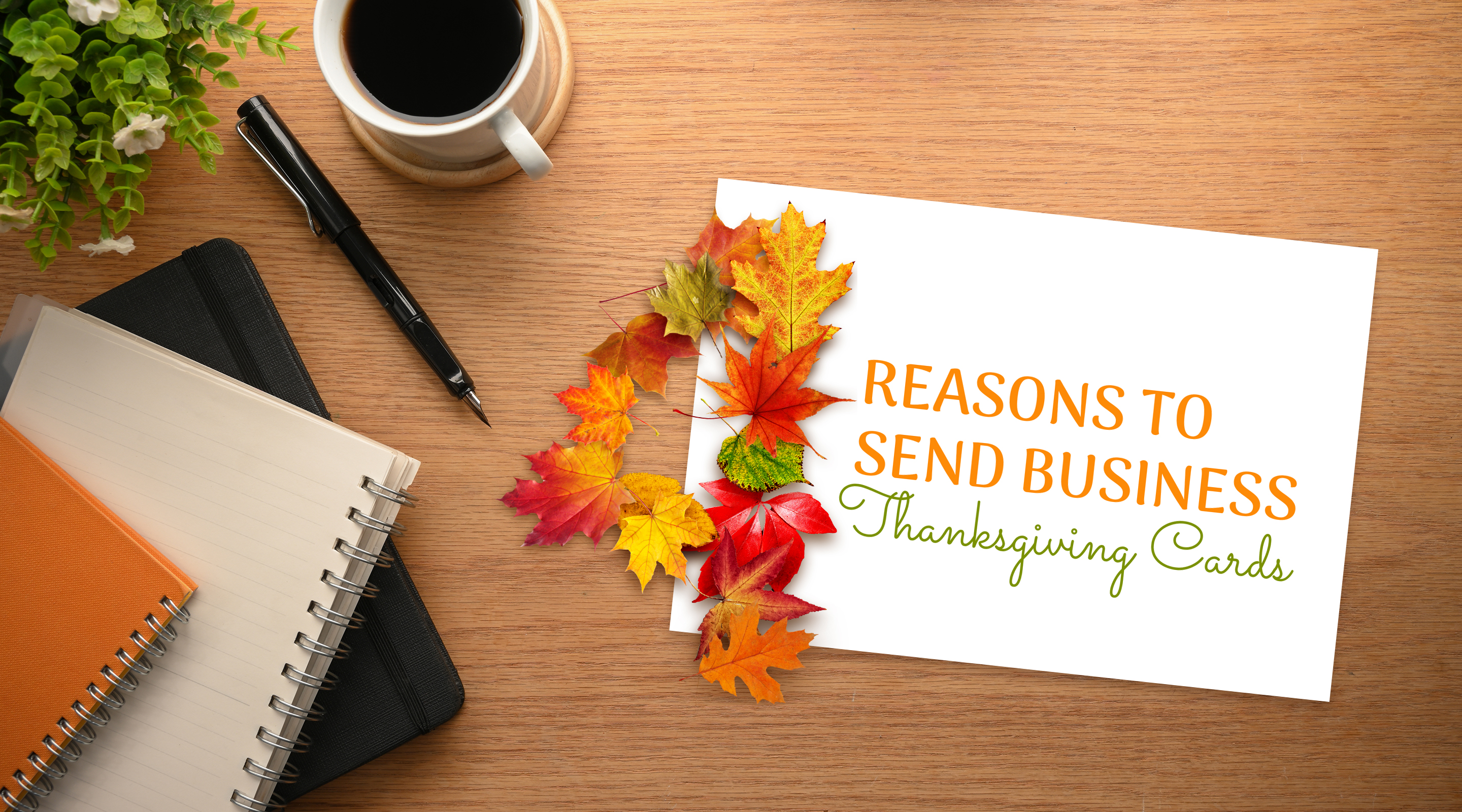 As the year comes to a close, people find an assortment of ways to show thanks and appreciation to those in their immediate circles. If you run a business, for example, you might want to mail cards during the Christmas season. However, you don't have to wait until December to take on this task. These days, it is common for companies of all sizes to send out cards for Thanksgiving. The decision to mail out business Thanksgiving cards allows you the opportunity to beat the holiday rush with a sweet and simple gesture.
If you think sending cards around Thanksgiving is a good choice for your business, now is a great time to look over some of the advantages. Review these points and learn more about the benefits you will experience by making this choice.
1. Strengthen Your Bonds
One of the best reasons to consider sending out cards around the holidays is because it provides you with a simple and effective way of strengthening relationships. Typically, business owners send cards to two main groups: employees and clients. Since both of these groups play a vital part in your company's success, you can use Thanksgiving as an opportunity to show deep gratitude for everything that these individuals have done for you. There is something personal about writing a card in the digital age and people take note of those who go the extra mile.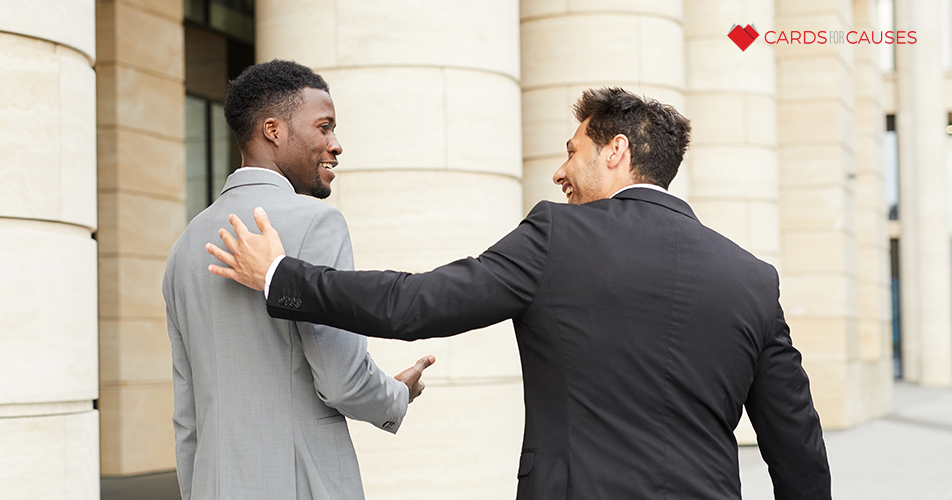 2. Show You Care
Little touches go a long way when it comes to showcasing appreciation. The holiday season can often be a whirlwind of responsibilities and obligations. Still, at the core of this time of year is a desire to spread cheer. By sending cards, you can show your employees and clients that you care. In the midst of their chaotic schedules, receiving a card from your company provides them with the opportunity to stop and smile. All you have to do is find the right Thanksgiving cards for business to suit your needs.
3. Smoothly Mention Your Services
The beauty of sending out cards around the holidays is that it serves as an opportunity to casually bring up your services without sounding like an advertisement. If you smoothly mention any holiday promotions you have coming down the line, you'll be able to grab the attention of your recipients without pouring all of your funds into a promotional campaign. Mailing cards keeps your company's name fresh in the minds of those who may require your services.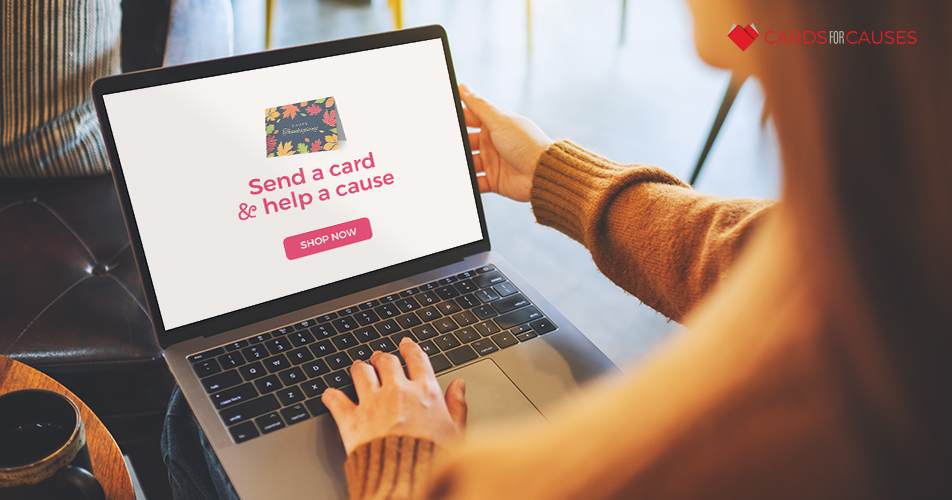 4. Give Back
During the holiday season, plenty of people like to put the needs of others first. One way this can be accomplished is by donating to causes that need attention. The beauty of ordering from Cards for Causes is that a portion of each sale is donated to the organization of your choice. This provides you with the perfect opportunity to thank your clients and employees while simultaneously giving back to those who could use a little extra assistance during Thanksgiving.
Where Can I Order Business Thanksgiving Cards?
When you're ready to place an order for business Thanksgiving cards, all you need to do is review your options at Cards for Causes. Pick out a design you love, come up with the right message, and spread some cheer during the holidays.
Do Businesses Really Send Out Thanksgiving Cards?
Though Christmas cards might hog the spotlight, plenty of business owners prefer to send out Thanksgiving cards. Not only is it a delightful and unexpected surprise, it provides you with the chance to get in with your clients before your competition.
What Should I Write in My Thanksgiving Card?
The message in your holiday cards doesn't need to be long or involved. In fact, your best bet when composing a message is to get right to the point. Keep the message brief and it will be easier to express your exact sentiments. The shorter the message, the more likely it is to be read.
Should I Order My Thanksgiving Cards in Bulk?
When you've got lots of people to send messages to, your best bet is to order Thanksgiving cards bulk. The more cards you have at your disposal, the easier it will be to guarantee you've got more than enough to hit all of the names on your list. This decision also saves you money in the long run.
Are Holiday Cards Better Than Emails?
In the digital age, it often seems like emails and texts are the best solutions for communication. However, slowing things down and sending a heartfelt message like a holiday card has a way of delivering more of an emotional impact than modern options can. Show you care by writing a message that proves it.
Though the Christmas season tends to be a popular time of year to mail out cards, there are many great reasons to get ahead by sending out Thanksgiving messages instead. To get the process started, visit Cards for Causes and dive into the different design options available. Once you've selected the perfect business Thanksgiving cards, select a charity, place your order, and check one more item off of your holiday to-do list.