Mar 31st 2022
Custom Thank You Cards for Small Businesses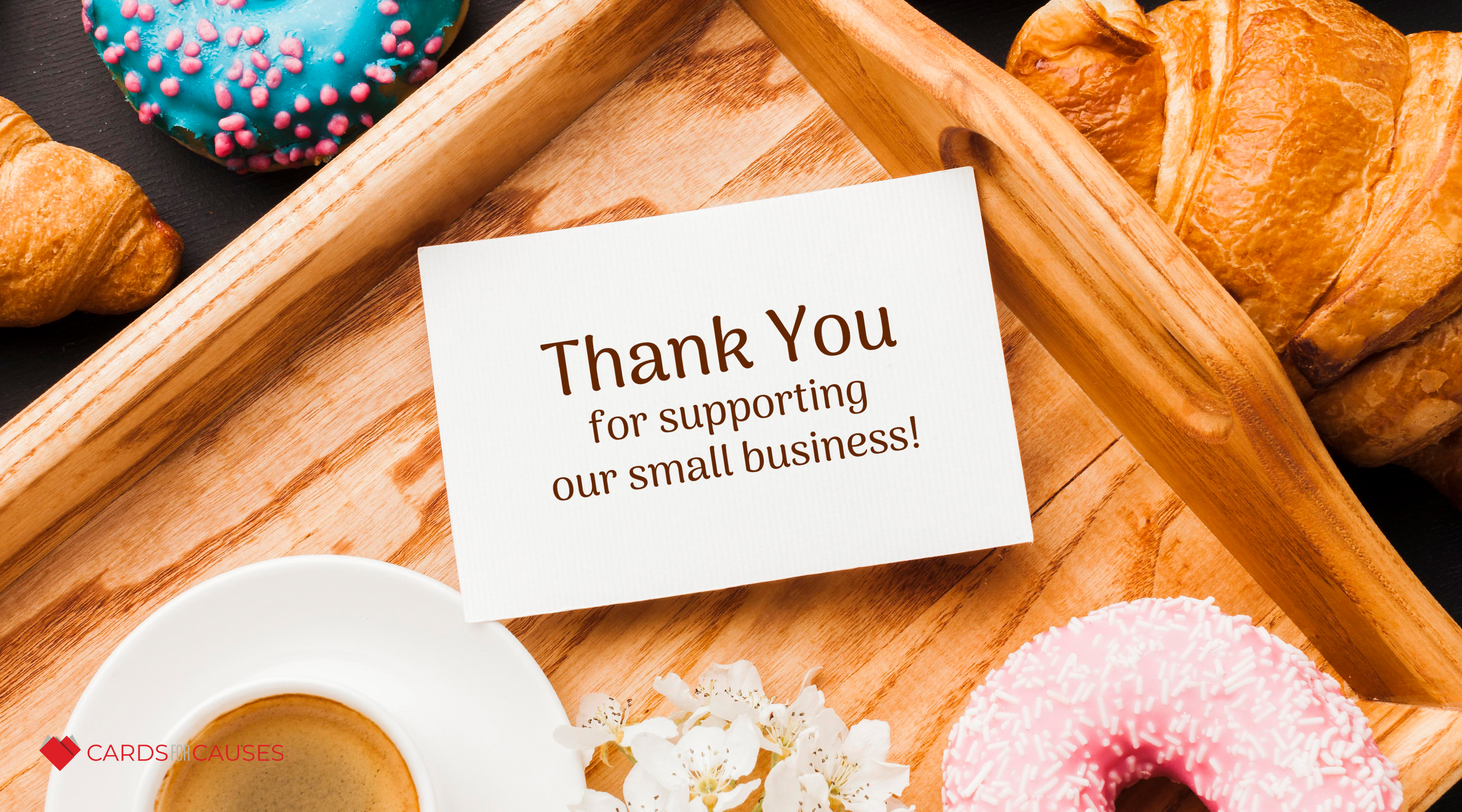 If you run a small business, maintaining good relationships with your customers, suppliers and other key stakeholders is essential. While most of this comes from being a trustworthy business that adds value for others, some of it comes from the little personal touches. One of the best ways to add a personal element to your relationship management efforts is to send thank you cards for small business. These are some of the best ones you can get from Cards for Causes.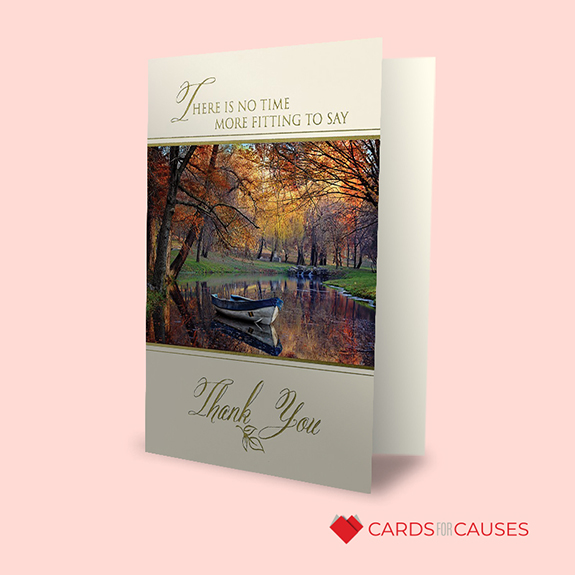 Shop - Thanksgiving Thank You Card
Thanksgiving is the perfect time to say thank you to some of your business contacts. It is the holiday season and a time specifically intended for giving thanks. Since most people and organizations in the United States observe this holiday, it is a particularly good time to reach out.
This card features a beautiful autumnal scene on the front. The design is classy and very much befitting a business sending appreciation thank you cards.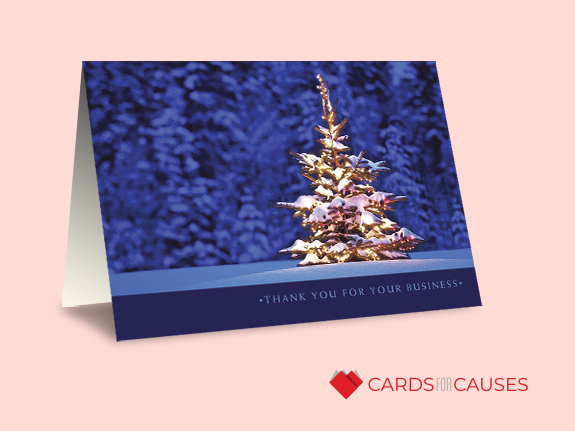 Shop - Business Thank You Card
This holiday-themed card is another fantastic greeting card for telling your clients and others that you appreciate them. Again, the holiday season is the perfect time of year for reaching out with gratitude. You can be confident that the recipients will all be happy to receive this card.
It features a simple holiday scene with a snow-covered, illuminated tree. It is a relatively non-religious card for holidays, typically preferable for businesses.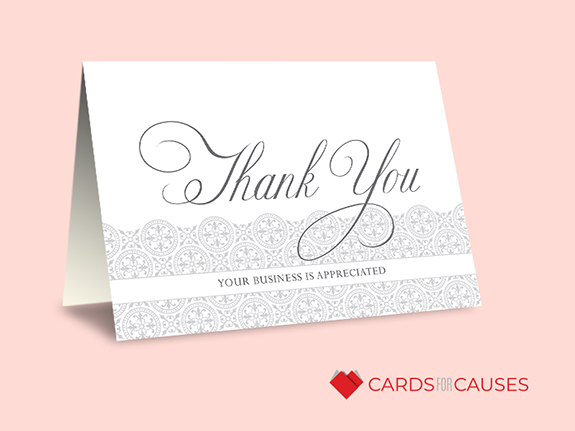 Shop - Formal Business Thank You Card
If you want something a little more elegant and less holiday-oriented, consider this formal thank you card. It is a great way to show someone that you appreciate doing business with them. This is a particularly good choice for more traditional businesses such as legal offices.
This thank-you card features a black and white design with elegant lettering. It also has a complex design reminiscent of lace.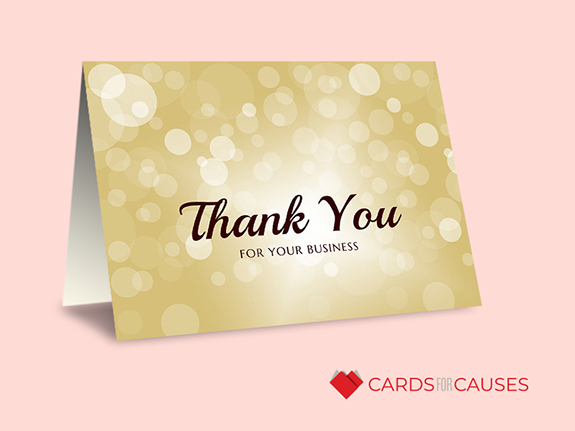 Shop - For Your Business Thank You Card
Business owners that want to send a "thank you" message but don't want to be overly formal may prefer this card. It is a nice, simple design that can work for almost any occasion. When your message is how grateful you are, you can't do much better than this card.
The design is bright and bubbly. It is reminiscent of champagne bubbles. The message on the front is to the point (although you can customize the print).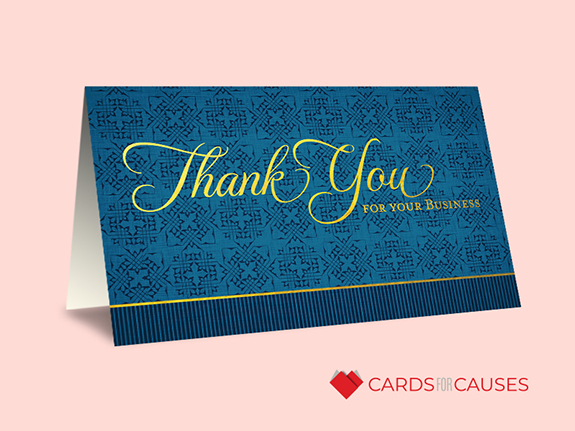 When you want to send something a little more opulent, this may be the card for you. It really lives up to its regal name. Again, this is a thank-you card that can be used at almost any time of year.
The design is blue and yellow with a tile-like background design. The color scheme makes it evoke the colors of the old French monarchy.
Order Your Custom Thank You Cards for Business
Do you want to tell someone associated with your business that you appreciate them? Order a set of thank you cards for small business today. Cards for Causes has a great selection to choose from. Plus, you can customize your chosen card to suit your unique needs. Better yet, a portion of your purchase goes to the charity of your choosing. What's not to love?
Where Can I Order Thank You Cards for Small Business?
You can order thank you cards from Cards for Causes. We offer a huge selection of different, customizable greeting cards. No matter what your business is or what you want to communicate, you can find cards in our catalog that will help you do it.
Why Should I Order Small Business Thank You Cards?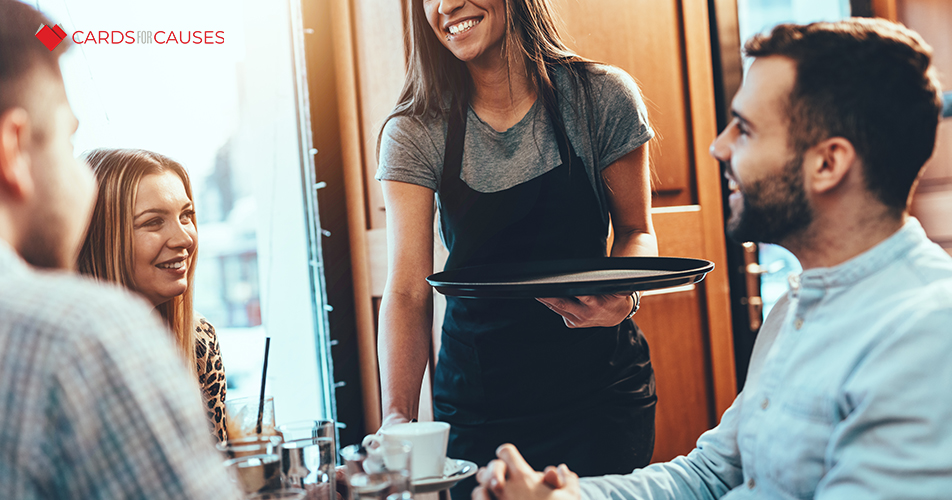 Thank-you cards are a great way to show clients and vendors that you appreciate working with them. For business-to-business brands, an appreciation card may be a good way to help maintain an essential relationship. For business-to-consumer brands, it can be a way to show major customers that you appreciate them.
What Are the Causes Supported by Cards for Causes?
There is a large variety of causes already supported through Cards for Causes' proceeds. Furthermore, you can select any charity to support with your purchase. As long as the organization is a recognized 501(c)(3) entity registered in the United States, we can work with it.
How Can I Customize My Appreciation Thank You Cards?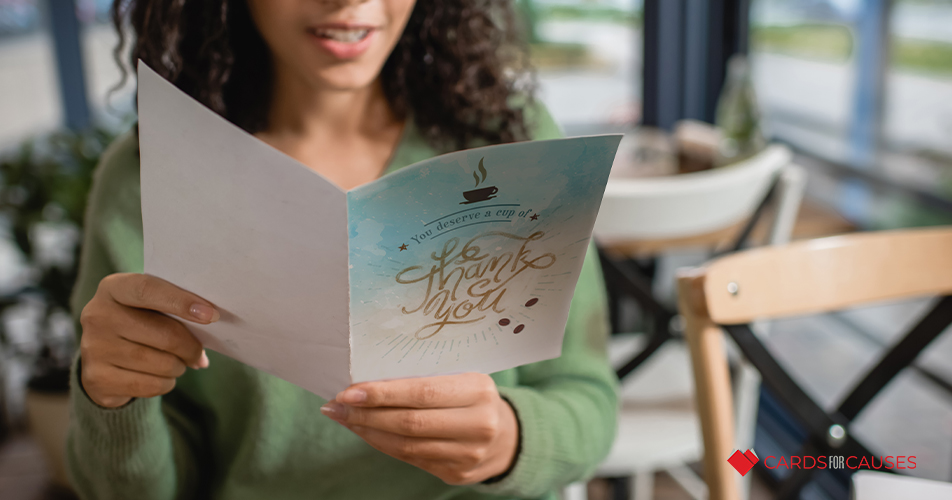 When you select a business thank you card, you can customize the printed text inside the card. Select cards in our catalog allow other customizations as well, such as personalized images. We make it easy to deliver professional, small business thank you cards to your clients.
Which Are the Best Appreciation Cards for Small Business?
The best appreciation card for your small business is the one that matches your brand's voice and tone. Some of the most popular include the giraffe thank you card, every single day and clouds thank you card. Check out the catalog to find the right one for you.