Oct 5th 2021
Funny Holiday Greeting Cards: Christmas 2021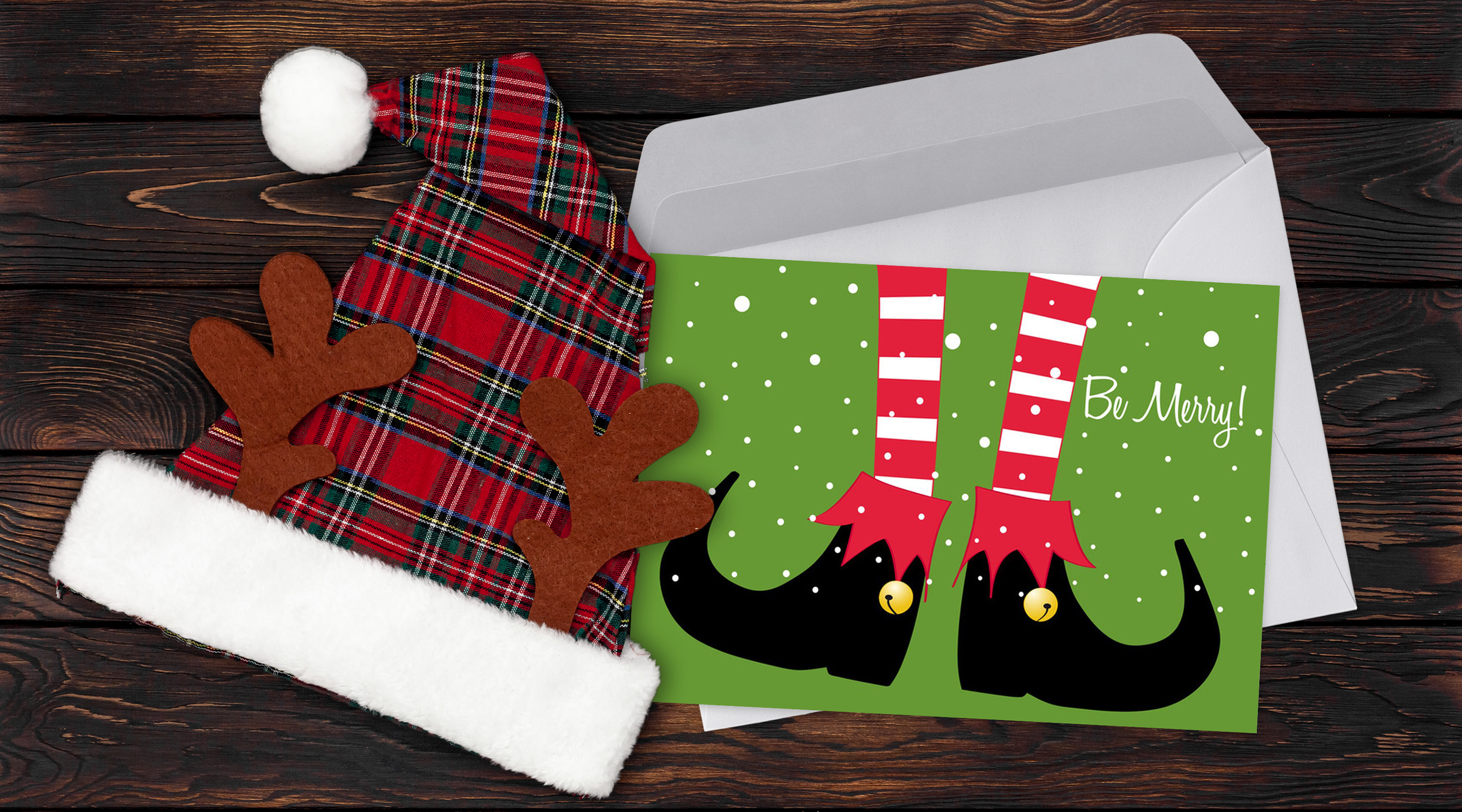 Many people dread sending holiday greeting cards because they don't know what to say or all the messages feel like chances to show off. If you're looking at a stack of bland Christmas cards with trees or lights on the cover and wishing that sending cards wasn't a tradition, try inserting some humor into the process.
Choose Unique Christmas Cards
Christmas is a time of love and joy, but that doesn't mean that everything needs to be serious. Look through Cards for Causes' selection of funny cards that fit with your inside jokes. For your family members who are shivering in the Midwest or Northeast, the Southern Living Christmas card features Santa and Mrs. Claus enjoying the beach. For your friends who are accountants, the Holiday Deductions card pictures Santa's sled breaking away from the reindeer, who remind Santa that he can deduct the sled's cost on his taxes.
There are also funny Christmas cards with less specific jokes. The Bullish Holiday card features a bull who's been upset by the famous red suit chasing Santa across a snow-covered North Pole. The Santa's Roof Repair card, which pictures the elves repairing a roof damaged by Santa's sleigh, is sure to make any homeowner chuckle.
Write Funny Messages
Once you've picked out the best funny greeting cards, you should write amusing messages to go with them. Explain why the cover joke made you think of the recipient, or talk about your shared experiences over the past year and how you think it's time for a laugh. Make up your own bad jokes if you feel inspired; self-deprecating humor often goes a long way in Christmas cards.
Start a Tradition
Don't let your Christmas card humor end with the New Year; preserve your funny card traditions through 2022 and beyond. Stock up on your favorite cards now so that you're not tempted by generic cards in the grocery store next November. Tell your friends about what you're doing and see if anyone will join you in your quest to lighten up your holiday greetings. Finally, keep the tradition going by sending out joke cards on holidays such as the Fourth of July or Labor Day.
How Should I Sign My Christmas Cards?
The appropriate signature depends on your relationship to the recipient. If you're writing to a family member, "love" is always a good option. For professional relationships, "sincerely" and "yours truly" convey respect without implying an affectionate relationship. To keep up your lighthearted tone, close with "cheers" or an inside joke.
Best Funny Holiday Greeting Cards
Shop - A bullish holiday christmas card
Shop - A holiday deduction christmas card
Shop - A santas roof repair christmas card
Shop - A living down south christmas card
When Should I Send My Cards?
If your custom greeting cards are not Christmas-specific and just about generic winter holidays, you can send them anytime between Thanksgiving and New Year's Day. For Christmas cards, it's best to send cards between Thanksgiving and December 20 to ensure that your recipients get them before Santa comes.
Who Should Receive a Christmas Card From Me?
You're not obligated to send cards to anyone, but it's polite to send a card to anyone who sent you one this year or last year. Send them to anyone else who you think would appreciate one or who you miss. Keep in mind whether your recipients would appreciate funny cards or whether a traditional option would be more appropriate.
Should I Include a Photo?
Sending photos is not required for Christmas card etiquette, but your family members and friends love to see the changes in your household, whether you've gotten married, had kids, or bought a goldfish. If you're uncomfortable taking a photo or you don't have enough time, just write a nice, long note.
Should I Include My Return Address?
While it's not necessary to include your return address, it's a good idea to write at least your street address and city in the upper left corner of the envelope. That way, if you've written the mailing address incorrectly, the post office knows where to return your envelope. Also, your recipients who don't already have your address will know where to send their cards.
Holiday greeting cards should be fun, not stressful or stuffy. If you're not sure how to add some levity to your Christmas wishes this year, check out the selection of funny Christmas cards at Cards for Causes.