Sep 15th 2020
Great Custom Christmas Cards to Send Customers this Season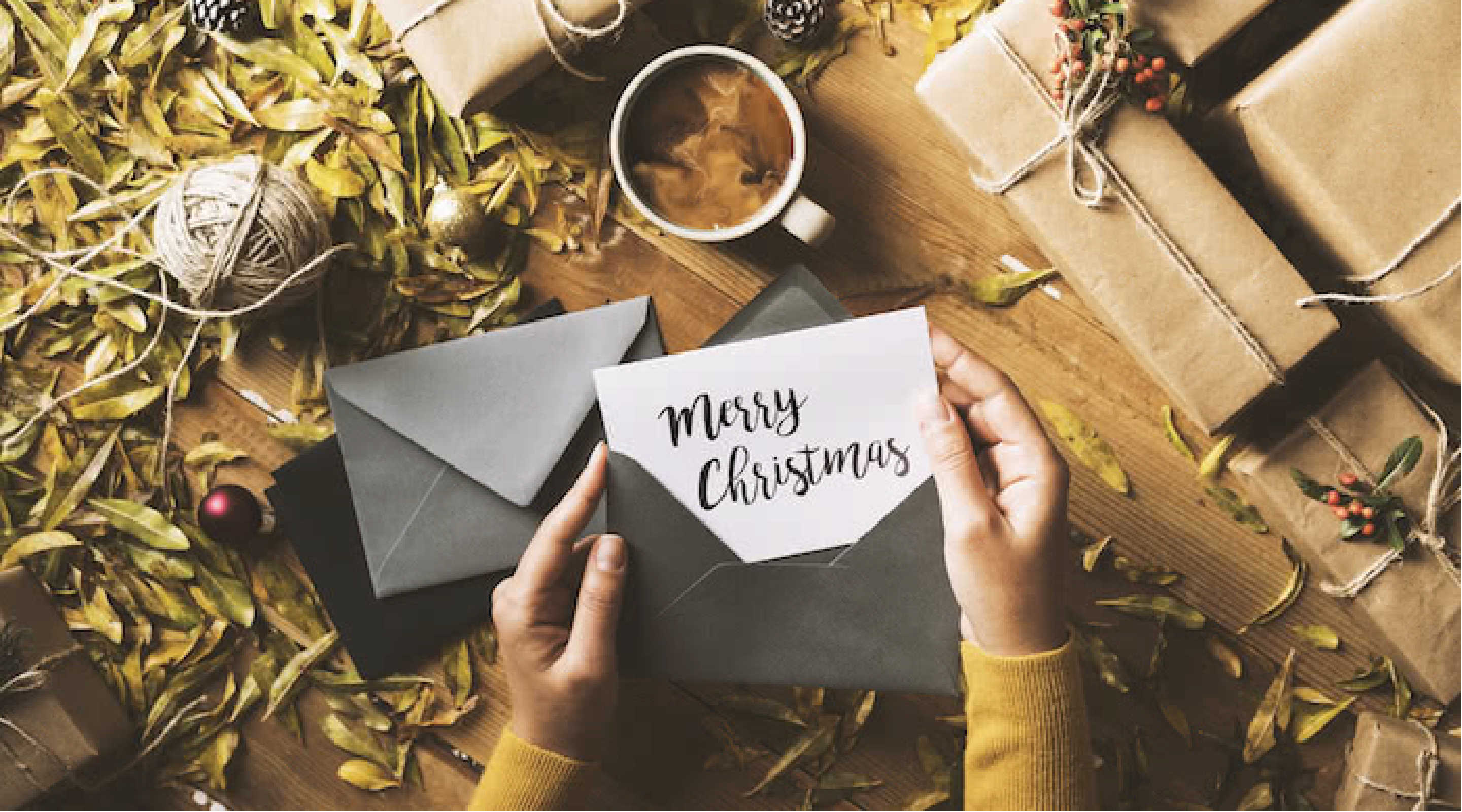 Sending customers custom Christmas, holiday or seasonal cards can be a meaningful step toward building lasting relationships. You can impress the recipients on any mailing list by designing custom Christmas cards. Order bulk greeting cards with designs that reflect your occupation or the services a business provides. Here are some of the most popular custom card designs for professional mailing lists.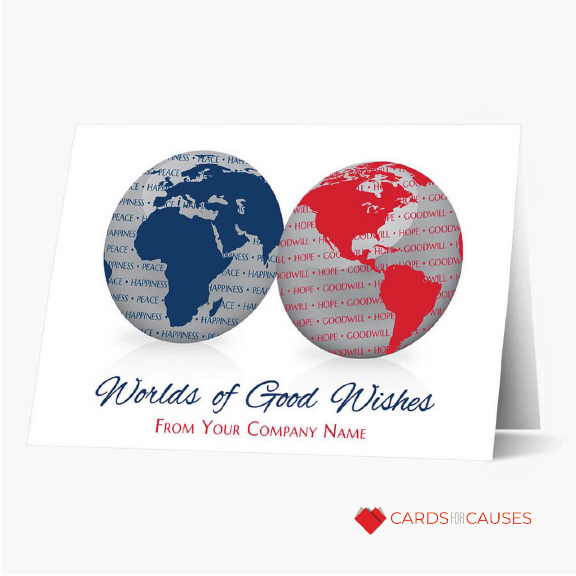 The World Of Good Wishes Christmas Card is perfect for the customers of an international business. Two images of the globe are printed side by side in blue and red, overlaid with a matching printed pattern of words associated with the holiday season such as "Happiness" and "Peace" or "Goodwill and" "Hope."
The cover message of this card expresses "Worlds of Good Wishes" to recipients, and you can customize the interior message. It is also possible to print a return address or custom message on the back flap of the silver-lined white envelopes that come with each card.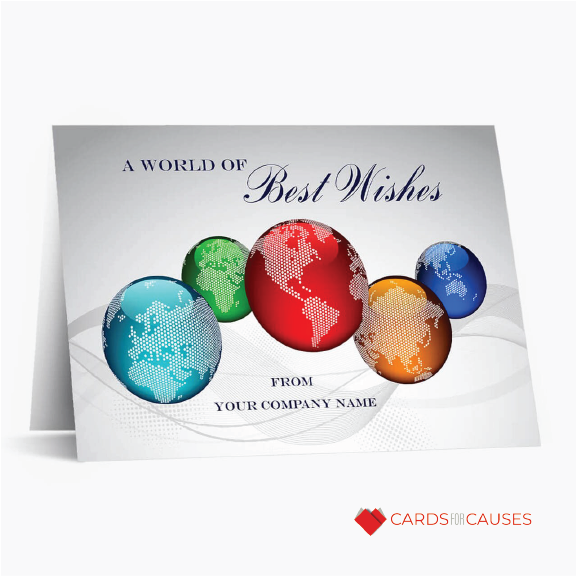 If you are looking for a brightly colored card, check out the Colorful World Wishes Card. The cover of this card depicts ornaments of different colors printed with white dots in the shapes of continents.
The cover message of this card reads, "A World of Best Wishes," with a "From" line centered under the image with room to print a company name below for personalized Christmas cards. Every card comes with a silver-lined white envelope and the option to customize the back flap with a return address or custom message.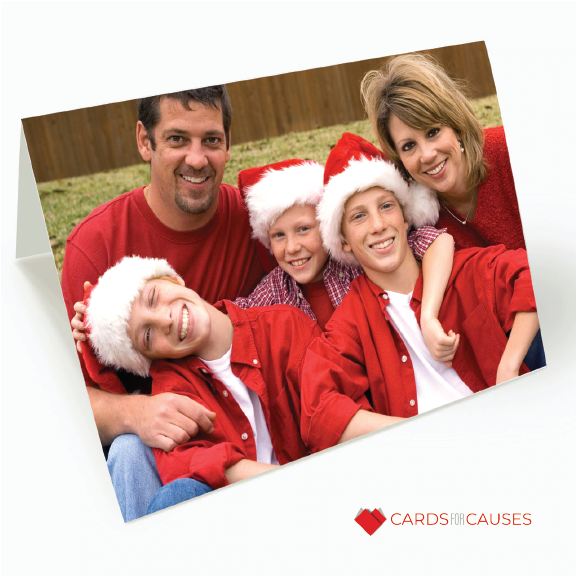 Photo cards are some of the most personalized custom Christmas cards you can send. A group picture of the staff of a business or office can make recipients feel that they know your team and consider themselves part of the extended family of an operation. The Borderless Horizontal - Semigloss Photo Card is a good choice for displaying almost any photo.
In addition to the space allowed by the horizontal orientation, the lack of a border on the cover of this card design makes it possible to select a photo without worrying about preset features. The cover of this card has a semi-gloss finish. You can also order matte finish photo cards in bulk.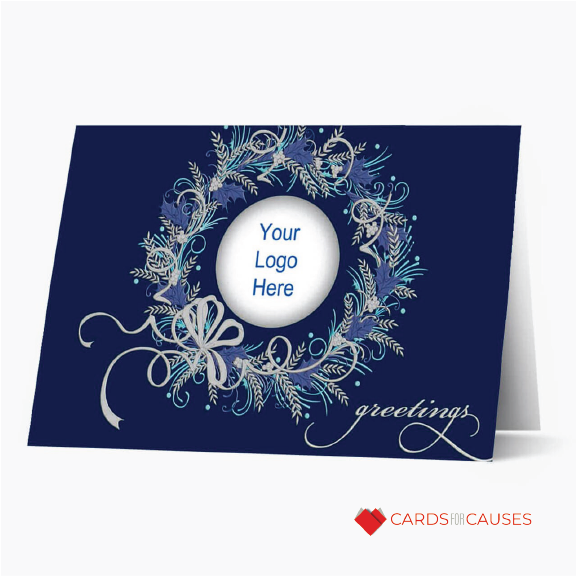 Many professionals appreciate the elegant and universal greeting on the cover of the Christmas Blues Card. This die-cut card displays a stylized depiction of a silver and blue foil wreath.
The opening in the center of the card cover is situated to display a business logo printed inside each card. While the interior of this card design requires a logo, there are many options available for customization.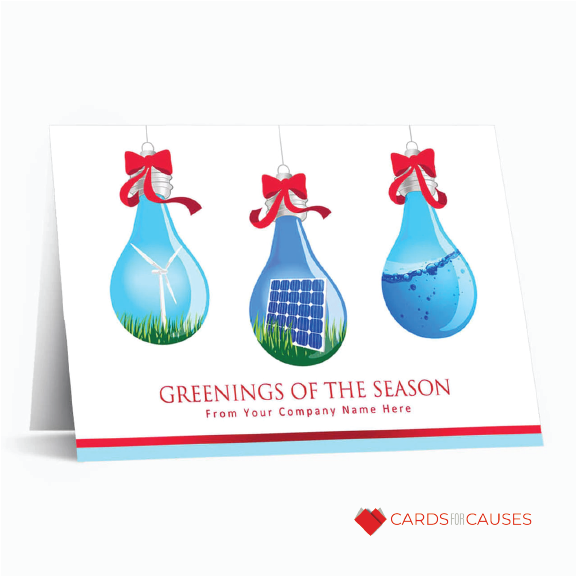 Renewable power or resource sustainability businesses can send Green Energy Holiday Christmas Cards. These business Christmas cards have a cover message that states "Greetings of the Season."
Three inverted light bulbs are presented as ornaments, and each is tied with festive red ribbon and suspended from silver wire. A windmill, solar panels and water appear inside of the bulbs. These cards ship with eco-friendly unlined white envelopes.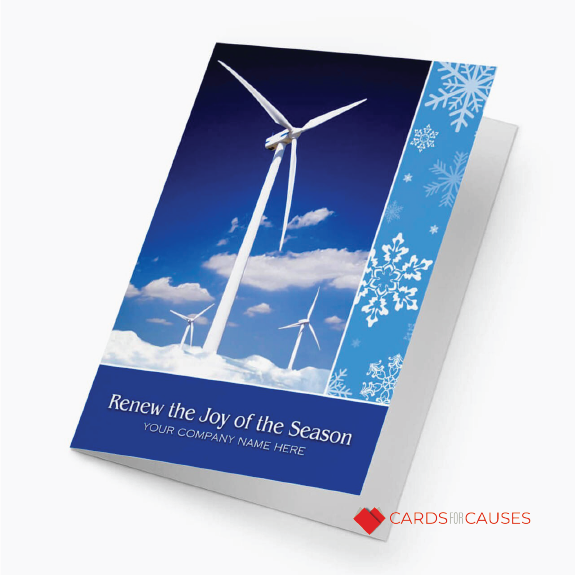 Renewable energy professionals can also appreciate the Renew the Joy Christmas Card. This card has a portrait orientation. The left side of the cover displays a photograph of three white windmills set against a blue, partly cloudy sky. To the right, a light blue accent panel is printed with seasonal snowflakes.
The message at the bottom of the card cover encourages every recipient to "Renew the Joy of the Season" and leaves room to print your company name. Customize the inside of this card with a message, sender information and a charity line.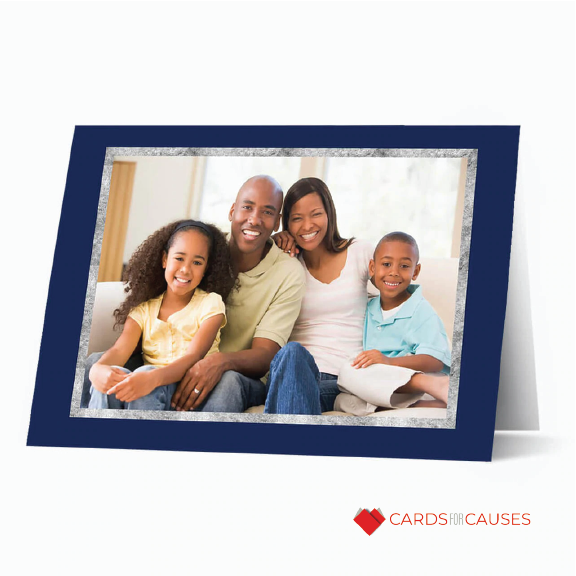 You can also send a photo card that has preset design features, such as bold blue and inset marbled silver borders. The cover of the Blue Magic - Matte Finish Photo Card displays a photo in a horizontal orientation with a shine-free finish.
Add a logo, signature, printed sender name or charity name to the inside of every card in a bulk order. These premium cards come with silver-lined white envelopes.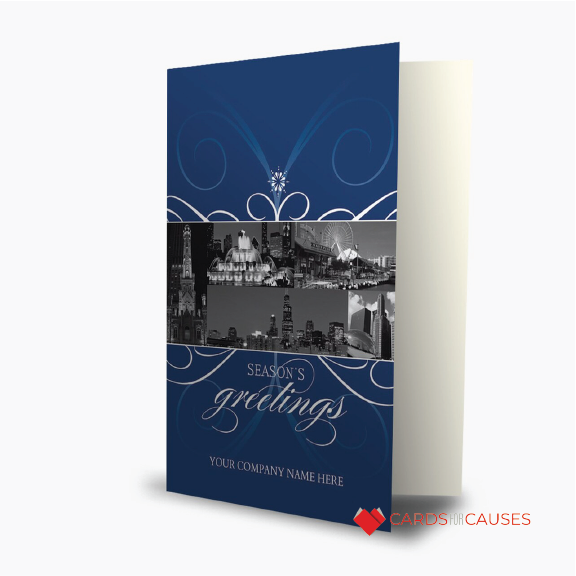 Chicago-based professionals can send the City of Chicago Florish Christmas Card. A sophisticated dark blue card cover with light blue and white flourishes surrounds a collage of photos of Windy City landmarks.
This portrait-oriented card displays an assortment of photos over a "Season's Greetings" message with space left open below to print a company name.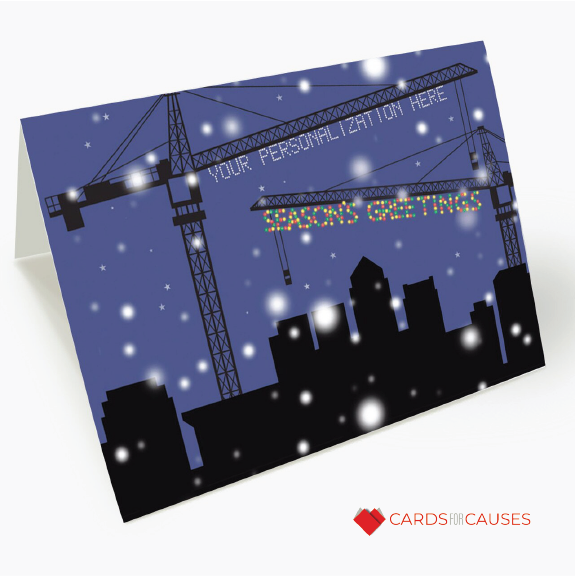 Builders and developers can appreciate the cranes that are prominently featured in a snowy city landscape on the Crane Lights Christmas Card. A "Season's Greetings" cover message is spelled out in colorful lights suspended from the lower of the two cranes on the cover.
This design makes it possible to imprint card covers with the name of a business or professional along the upper crane. You can also customize the inside of this design and other bulk Christmas cards.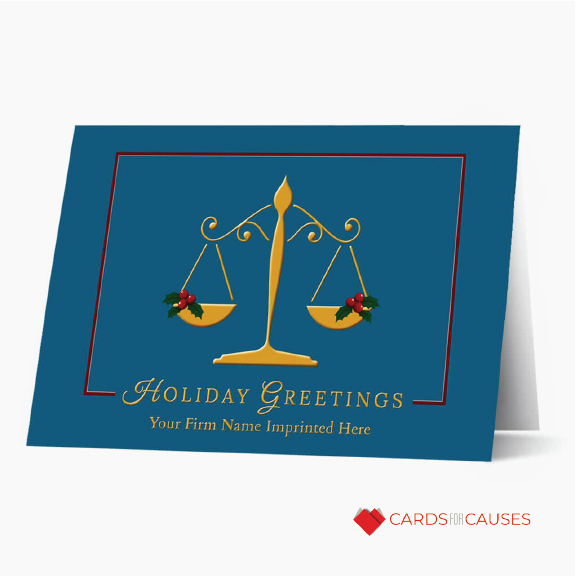 Browse our selection of greeting cards to find the right card for your occasion.
Attorneys, lawyers, judges and other legal professionals can send Festive Scales cards to client mailing lists. A simple illustration of a golden scale with festive holly sprigs in the pans appears on the cover of this card.
The Festive Scales Christmas Card has a "Happy Holidays" cover message with room to imprint the name of a legal firm at the bottom of the cover. Personalize the inside of cards with a logo, signatures, sender name and charity line.
You have the option to send cards with preset covers and customizable interiors or select a design that designates space to imprint a business name on the cover of each card. Die-cut and laser-cut cards can display interior logos or intricate designs. You can also choose to donate 20% of the cost of each card order to the registered, tax-exempt charity of your choice and include a charity line in cards. Whether you prefer to send occupational, regional or photo cards, there are many options for designing custom Christmas cards.