Mar 14th 2022
Step-by-Step Guide to a Great Event: The Ultimate Event Planning Checklist

Step-by-Step Guide to a Great Event: The Ultimate Event Planning Checklist
Planning the perfect event requires that you manage an array of moving parts, working effortlessly to ensure that everything goes off without a hitch. This is especially true for major events with many attendees — when you're coordinating an event that includes a caterer, venue booking, sponsors, and other major components, you need to be sure that you have everything under control. Follow this step by step guide to ensure you're ready to plan the event of the century.
Establish Event Goals and Objectives

Before you can start planning, you need to define what your goals and objectives for the event are. Are you throwing a corporate-sponsored birthday party for a public figure — and if so, is press coverage the objective? Or are you hosting an academic conference for STEM professionals, with the goal being to showcase new research? Clearly define who your audience is and what your goals are before you go any further.
Develop Your Event Budget

A mismanaged budget is one of the biggest mistakes an event planner can make. One of the first steps of effective planning is developing a budget, taking into account expenses such as:
costs
fees
rentals
and giveaways
rental
and thank yous
Some of these expenses, including custom greeting cards, are affordable enough that they won't be a major part of your budget — but you need to plan even for the smallest expense.
Select the Date for Your Event

The date that your event is hosted will be a major component in determining the rest of the details. You need to choose a day that is convenient for the majority of your guests, has favorable weather predicted, and is available for the speakers or entertainment you want to book. With all of these criteria in mind, select a tentative date, and make a final confirmation once you start booking appearances.
Build the Team for Your Event

Building the team for your event is like draft day for the NFL. Who's going to be the best linebacker? Who's the star quarterback? Your strategizing in a similar way, except you're looking for different positions:
manager
supervisor
and exhibitors
director
These positions are an essential part of a successful event—so be selective when you're filling these roles!
Choose the Event Venue

Few details are more important than where your event is hosted. Even if everything else is planned perfectly, if you host the event at a lackluster spot, you might find that the day isn't as lively as you would've hoped. The most important consideration, of course, is capacity. You want to find a venue that's big enough to house the number of attendees you plan to see. Keep this in mind, and pay attention to details such as tech capability and ambiance, too.
Pick the Décor and Theme

This is the fun part! Selecting the décor and theme of your event is an exciting opportunity to set the mood and make the event exciting for everybody. Think about what your guests are most interested in and what kinds of motifs would most likely appeal to them. Based on this, choose decorations that create a consistent theme, and encourage your guests to adhere to the event's theme, too.
Reserve Entertainment and Equipment

You don't want to procrastinate on this step. It's important to reserve entertainment and equipment as soon as you have a date determined. Some of the reservations you should book in advance include:
tech equipment your event will require
musical acts, and other entertainers
facilities if the event is outdoors
Waiting until the last minute to get in your reservations can leave you in a bind if the equipment and entertainment you need is no longer available.
Contact Caterers to Coordinate

Most professionally-planned events will need catering, and like the aforementioned reservations, coordinating sooner rather than later is key. Consider options such as the following to determine what kind of arrangement is most appropriate:
style meals
d'oeuvres
meals
Once you have determined what kind of meal arrangement is best for your event, consider which caterers are best suited to provide food, and make reservations as soon as possible. Finalize the menu and ensure that the caterers have everything they need prior to the event.
Send Invitations to All Attendees

If you want people to attend your event, then of course you must let them know about it! You can do so via social media or phone, but you can also send out custom greeting cards to formally invite participants and share the date and location of the event. Custom greeting cards offer the additional benefit of making the invitation more personal. Rather than sending out a mass invite online, you can make each prospective attendee know their presence is wanted.
Confirm Sponsors and Exhibitors

Your event wouldn't be much of an event without an itinerary of sponsors and exhibitors. It's imperative to confirm these attendees to ensure that they will be present, contributing attendees on the day of the event. It's also a good idea to have a list of potential back-ups if an exhibitor or sponsor falls through.
Prepare the Party Favors and Swag Bags

Nobody wants to go home from an event empty-handed! You need to make sure that you guests are left with a tangible keepsake from the event, to thank them for attending, and to incentivize them to attend the next event. You can accomplish this by sending out custom thank you cards, but even before this, you should have swag bags and party favors ready to give as parting gifts.
Determine What Tech You'll Need

It's important to determine what technology you'll need for the event in order to make necessary reservations — but also so that you can plan for the needs of presenters and attendees. Will there be an app that attendees can use to navigate the event? Will tickets to the event be in the form of a QR code? Be prepared to furnish the tech needs of attendees, presenters, and sponsors in order to ensure the event goes smoothly
Run Through the Program Before the Big Day

There's a reason most major events have a rehearsal prior to the actual event. Rehearsals can help you identify problems before they happen and streamline the schedule. It's a good idea to run through the program prior to the big day to check for issues such as the following:
time between presenters
time slots scheduled
made incorrectly
A quick run through the program can save you from a lot of trouble later on.
Mingle with Guests and Enjoy Conversation

Don't get so consumed with planning your event that you don't take time to enjoy it! One of the most rewarding parts of planning an event is experiencing the fruits of your labor — so once the event is underway, it's time to mingle with attendees and enjoy conversation with your peers. Events are an important opportunity to make connections and foster relationships, so you need to be sure not to miss out on this chance.
Check With Venue to Keep Event On-Track

While you're mingling with guests, take a moment to check in with venue management, too, to make sure that everything is going as planned. Ask them if they need any additional support, or if security or crowd control is necessary anywhere. Staying on top of details like this will make the day a success.
Send Out Thank You Notes to Attendees
Once the event is over, it's imperative to let guests know how much you appreciated their attendance. Sending out custom greeting cards is a great way to do so, but for an event with dozens or hundreds of participants, hand-writing all of those notes may not be feasible. How can you sincerely express thanks without such a time-intensive commitment? Bulk thank you cards make it easy to send out a large number of personalized thank you's without having to do all of the work manually. Custom thank you cards show attendees that you care and make it more likely that they'll attend the next event you host!
How do I make my event fun for attendees?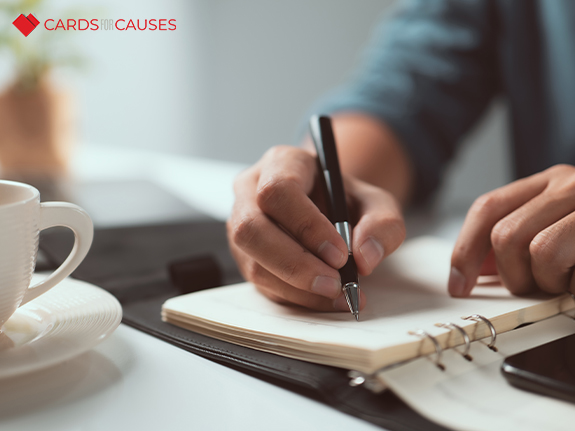 Every event planner wants their event to be enjoyable. Making it fun is a matter of knowing what attendees want — and you can get this information by seeking feedback!
What do guests want to see at an event?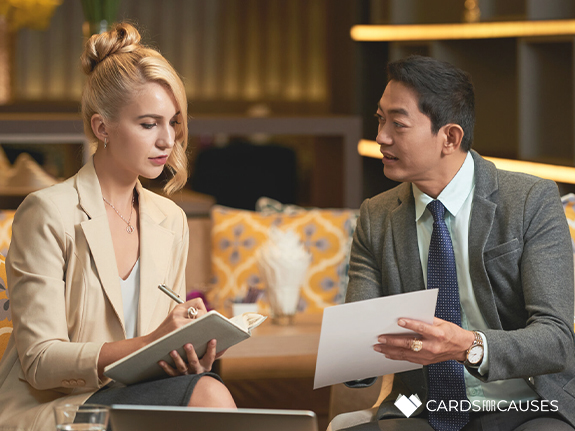 Even with feedback, you must have a certain degree of intuition to know what your attendees want to see. Typically, guests want information and entertainment that's relevant to the event's theme.
What is the most common event-planning mistake?
There are many mistakes you can make in event-planning, but the most common is not planning at all! There is no such thing as over-planning, but you can certainly me in a mess if you under-plan.
How long should an event last?
The duration of an event depends on what kind of event it is, how many people are participation, and what the programming entails. Most events last one or two days.
How can I get feedback from guests after an event?
Soliciting feedback is a great way to show attendees that you care about their experience and want to make it even better next time. You can ask for feedback when you send out custom greeting cards!
Make it an Event to Remember
As an event planner, you know the importance of making every detail count. That's why you have a dedicated checklist to ensure you are on top of everything. Don't forget to send out custom thank you cards and center your attendees in every decision you make. Count on Cards for Causes for all of your post-event thank you card needs.