Dec 28th 2020
The Do's and Don'ts of Sending Holiday Cards to Clients
Use the holiday season to send business Christmas or holiday cards that express your thanks to important clients. Whether your business is moving forward at full steam this season or slowing down at the end of the year, this is a great time to connect with your clients with a thoughtful, personalized message. Learn more about how to make the most of holiday cards to improve client relations and avoid offense or gimmicky cards.
Do # 1 - Send Cards Promptly
A late card communicates unprofessionalism more than thanks. Avoid sending a holiday card at the last minute, as it may not reach your client in time. This can communicate a difficulty to hit deadlines, which is the last thing you want to communicate with your business. A card a few days early is better than a few days late, so schedule your mailing accordingly.
Do #2 - Use Care With Holiday Wording
There are many strong opinions surrounding holiday wording. Some clients may feel a Christmas card is inappropriate, while others may think a more generic holiday card misses the mark. If possible, tailor each card to what you know about your clients. Sending a religious card to a client who practices that religion can be a welcomed feature.
When in doubt, look for more general holiday cards. A "Happy New Year" card is a neutral option that everyone can enjoy. Avoid using any references to drinking, partying or specific religious events unless you know the particular client well.
Do #3 - Avoid Self-Promotion
The holiday season isn't a time for overt marketing. An advertisement or business card sends the wrong impression for many clients. Thanksgiving cards for business are the last place someone expects a promotional flyer, so simply send a letter of thanks and appreciation.
Another common self-promotion mistake is bragging about end-of-the-year accomplishments. You can send a year-end report if you wish to communicate these statistics, but avoid this kind of self-promotional language in a holiday card. The main focus of the card should be your appreciation and a wish for a great season with friends and family.
------------
Don't #1 - Don't Send Impersonal Cards
Even if you're busy this season, don't forget to leave time for personalized messages. For new clients, a simple hand-written signature can be a great start. For clients with a more extensive relationship, add a message of greetings to their family or mention a detail to show that you were thinking of them when you wrote the card.
Don't #2 - Don't Scramble Last Minute
Throwing up a last minute Hail Mary to get in front of your customers or clients isn't the way to go about it. Get too close to Christmas and your cards are more and more likely to get lost in the shuffle. Instead of a last minute holiday card, we'd recommend going with New Years cards to wish your clients prosperity in the upcoming year. The New Year is a much less crowded time in their mailbox and you are more likely to stand out.
What Do You Write in a Holiday Card?
The wording should express your thanks or seasonal greetings in a way that highlights your relationship with your client. Use a personal greeting, but avoid any crass humor or other greeting that may be read the wrong way. A simple, "Happy Holidays!" greeting from your staff is a great choice.
Do You Need To Send Cards During the Holidays?
While holiday cards aren't required, many clients will expect them from your business. These cards are a great opportunity to show a more personal side of your company and to help express your thanks to valuable clients. Remember that your competitors are probably sending out cards during the holidays.
Are E-Cards Acceptable?
Many companies are turning to e-cards as an affordable, convenient alternative. An e-card doesn't have the same level of personality as a physical card. An e-card may seem like a last-minute or impersonal option, so consider choosing a quality card alternative.
Should I Include a Business Card?
Business cards or other advertisements in a holiday card give off an impersonal impression. Even a simple business card can seem pushy during the holidays. You're trying to build a relationship, not sell a product, so avoid sending a business card or other professional advertisement information during this time.
What Are Seasonally Appropriate Card Designs?
Unless you know the particular holidays your client celebrates, it's best to stick with a general card. Thanksgiving, New Year's Day and Christmas are the most popularly celebrated holidays, but consider sending a Happy Holidays card if you don't know how your client celebrates this season.
Shop for holiday cards at Cards for Causes to enjoy custom Christmas cards and other holiday-themed greetings for your clients. Find cards that strike the perfect balance of professionalism, humor and personalized greetings to connect with your valued clients during this season.
Client Holiday Card Ideas
At Card for Causes, we have cards for every occasion. During the holiday season, you want to spread some cheer with the people you love. The following 10 custom holiday cards are perfect for showing friends, family and others that you care about them: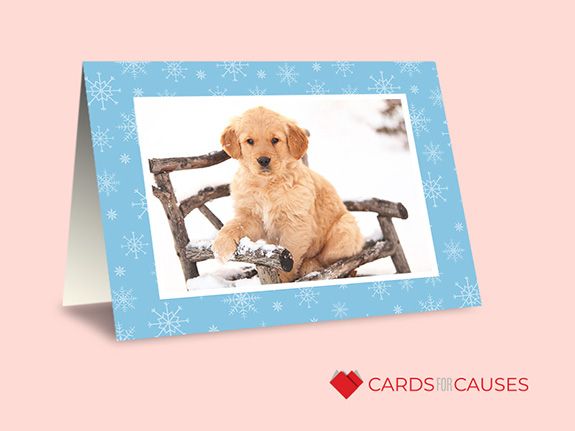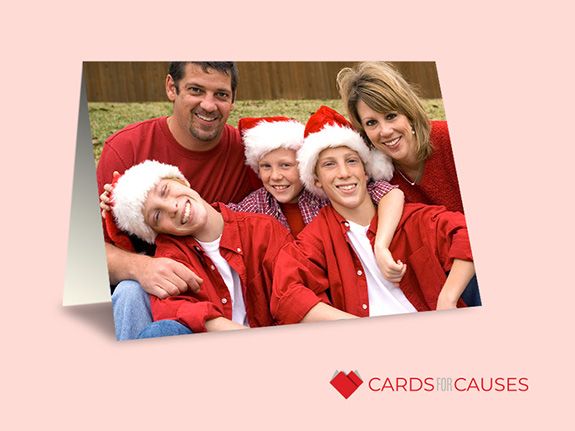 Shop - A Borderless Horizontal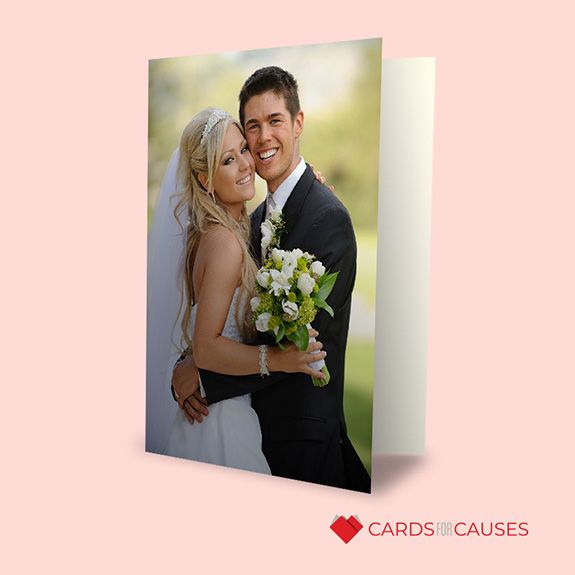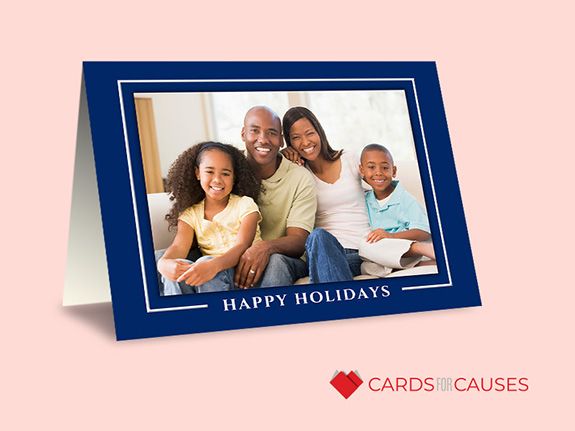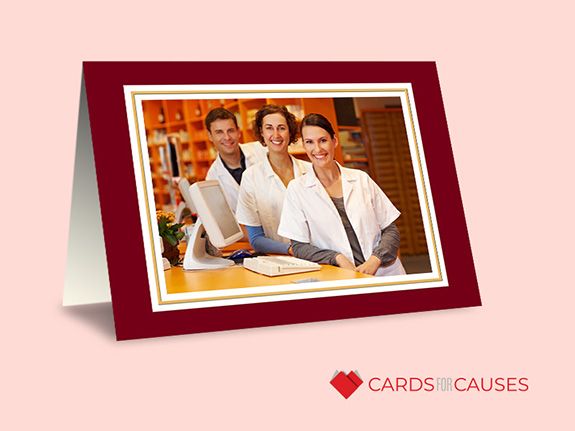 Shop - Classic Photo Horizontal