Apr 8th 2021
Wedding Wishes: What to Write in a Wedding Card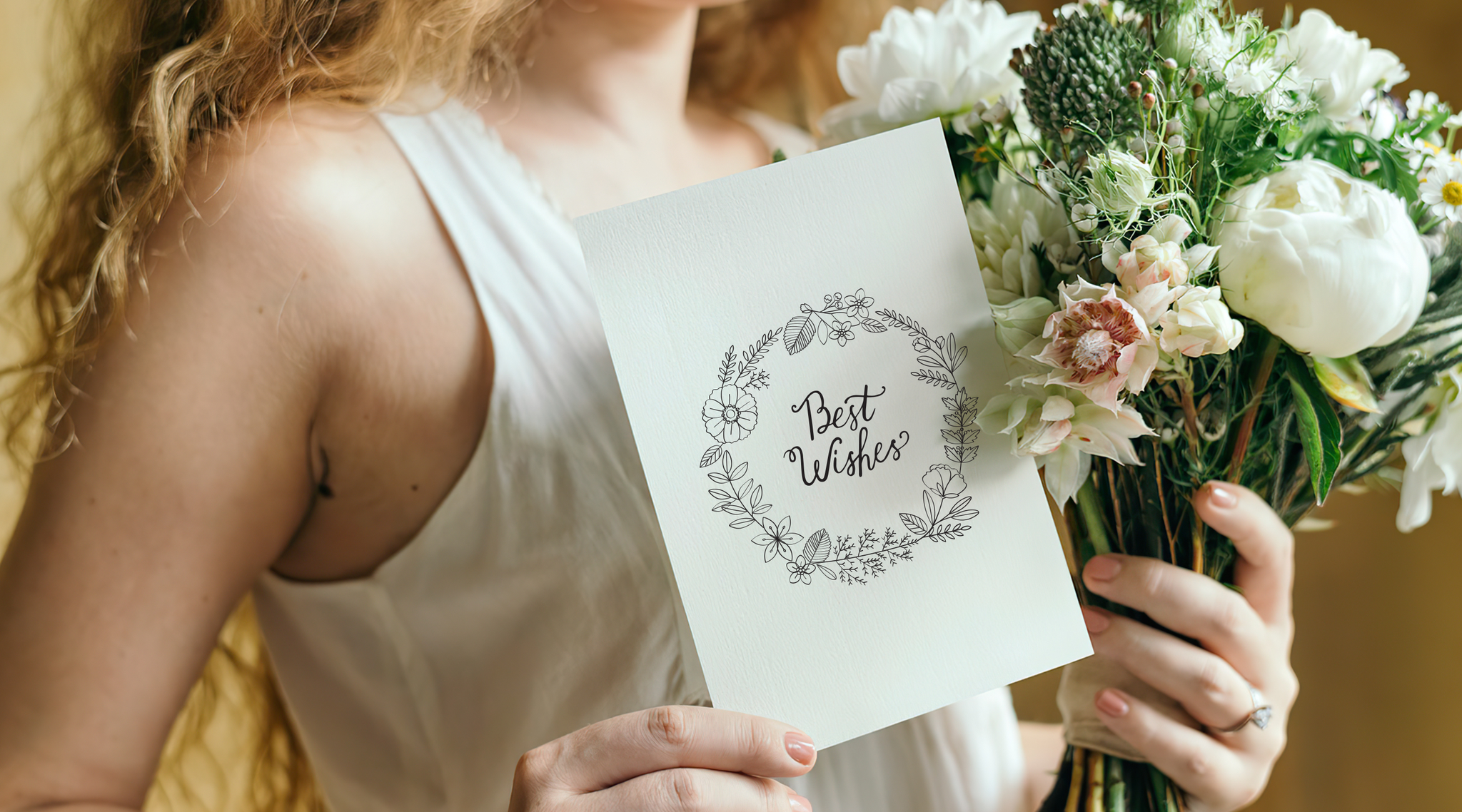 Being invited to attend a wedding is an honor many of us often take for granted. According to The Knot, the average cost of a wedding in the United States is nearly $35,000, with the state-by-state average spanning $19,000 at the low end to almost $50,000 at the top. Most couples need to budget their money carefully, and the size of the guest list is an important factor in staying on-budget. If you're one of the lucky ones on the invite list, one of the best ways to say thank you is to write a heartfelt personal note to the couple. Though there are countless options out there for beautifully written and designed wedding cards, what you write inside is the most meaningful. Don't know what to say? Here are some suggestions for practically every matrimonial situation — a crash course in how to craft the perfect personal note.
Brushing up on Wedding Card Etiquette
Whether your card accompanies a physical gift or includes the gift (cash, check, voucher, etc.), a thoughtfully-chosen card with a personal note is both customary and practical. When guests bring a gift to the reception, the accompanying card will help the couple keep track of who each gift was from when they're ready to write their thank-you cards so include a brief, tasteful mention of the gift in your note.
You can choose to bring the card with you to the reception or mail it ahead of time; it's up to you. You can send the card to the bride or groom separately or to both if they live together. Use the bride's maiden name in either case, but if you bring the card with you, use either "Mr. and Mrs. _________" or just their first names, if you prefer. It's never a good idea to send cash in the mail; if you write a check, include both their first names and the married last name. However, double-check that the bride plans to use her new husband's last name — more women are now opting to keep their original last names after marriage.
Newlyweds should send thank you cards as soon as possible after the honeymoon — no later than 6 months after a very large wedding.
Thanking the Couple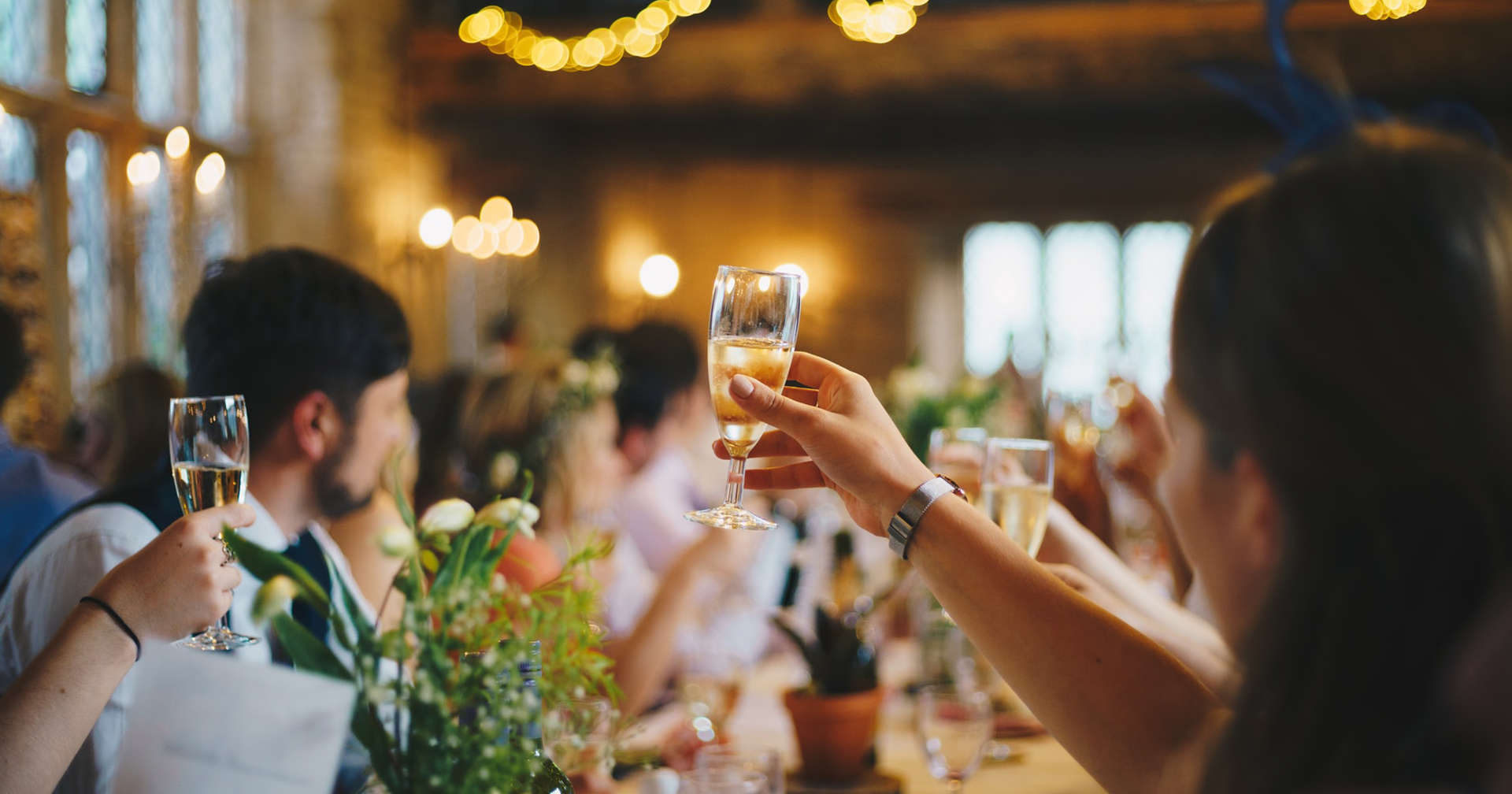 Saying thank you will never go out of style. In your personal note, include your appreciation to the couple for allowing you to be a part of their special day. Before you being writing, take a moment to reflect on your involvement in this happy occasion. Even if you don't know the couple well, it's appropriate to express gratitude for the honor of being included. If you do know one or both of them, mention that you are thankful for having them in your life and/or what about them you are thankful for.
Making it Personal When You're in a Hurry
If you've put off writing the card until you're at the reception, here are a few examples of how to write a quick-but-thoughtful note in a hurry:
Formal: "Dear [names], I/We are so happy for you both and are honored to be part of your special day. May this slow cooker serve you well throughout your many years together. Best wishes, [your names]"
Casual: "Dear [names], "You did it! So happy for you and happy that we're celebrating with you today. Enjoy this slow cooker and each other, you lovebirds! [your names]
Extending Wedding Congratulations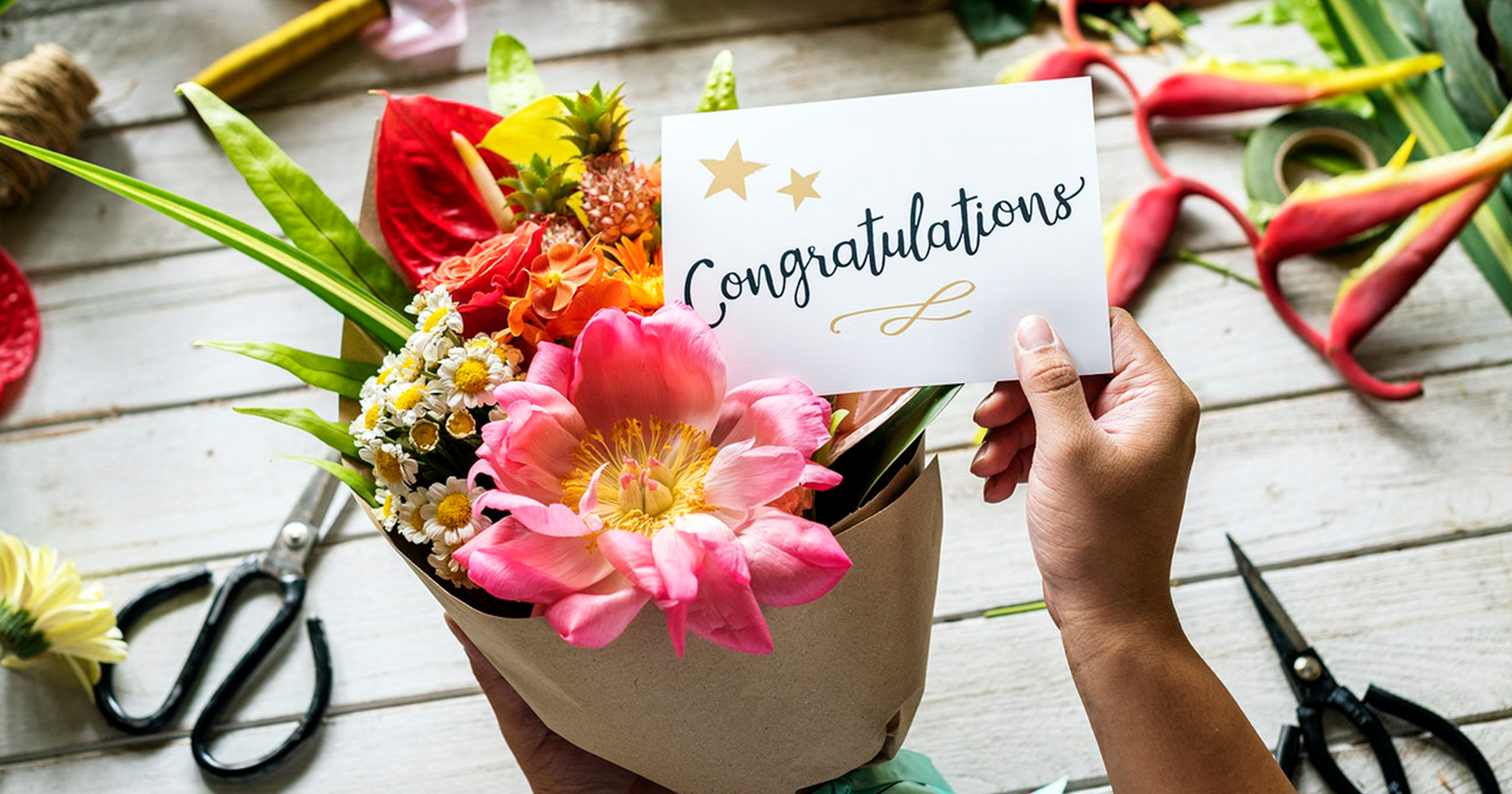 Looking for a more creative way to congratulate the couple? Here are few alternatives to saying "Congratulations!"
Best wishes
Blessings
Many happy returns
Cheers
Bravo
Kudos
Props
Hats off
Declining Gracefully
If you've received a wedding invitation and cannot attend, it's polite to send a card and, in most cases, a gift. Express your regret for not being able to make it, but don't over-explain or lie about the reason why. If you are family or close to the couple, it is appropriate to give a reason, but be brief. A follow-up phone call is better than writing a detailed explanation. No matter what your relationship is to the couple, declining an invitation should include these three elements:
Apology — "I'm so sorry I won't be able to attend your wedding," "I feel terrible that I will miss your special day," "Sadly, we won't be able to make it."
Thank you — "Thank you so much for inviting us," "I'm so honored to have been invited," "We really appreciate being included on your guest list."
Best wishes — "We are so happy for you both," "Congratulations and enjoy every moment," "May your wedding and your marriage be blessed."
Welcoming into the Family
One of the best reasons to include a handwritten note in your card is to welcome the bride or groom into your family. Depending on how well you already know him or her, you can use this opportunity to say that you look forward to getting better acquainted, spending more time together, or building a relationship over the years. If you're already close, you can point out that, though he or she already has been part of your family, you are happy it's now "official."
If you're not family but have a very close relationship with either the bride or groom, welcome the new member into your community or circle. You can share the same sentiments as you would with a new family member, and it is sure to be appreciated.
Closing Your Note
There are many ways to close a personal note, but they generally fall into one of two categories: formal and casual. Use a formal closing if you don't know the couple well or if there's a formal aspect to your relationship — a coworker or manager, for example. Close with phrases such as "Best wishes," "Warmly/Warm regards," "Blessings on your marriage," or simply, "Congratulations!" Informal or casual closings include "Love/Lots of love/Love you," "So excited for you," or something personal to your relationship, such as "Your baby sis."
Saying it Warmly
Need some inspiration for the body of your note? If you're writing to friends or family members, try one of these:
"So happy for you both! Here's to a lifetime of love and happiness!
"You two are made for each other. Enjoy every moment together!
"Your love for each other is inspiring — thanks for being such a great example."
"Mr. and Mrs. — I like the sound of that! Many long and happy years together, you two!"
"Whoa, you did it! Congrats on being this year's "It" couple!"
Keeping it More Formal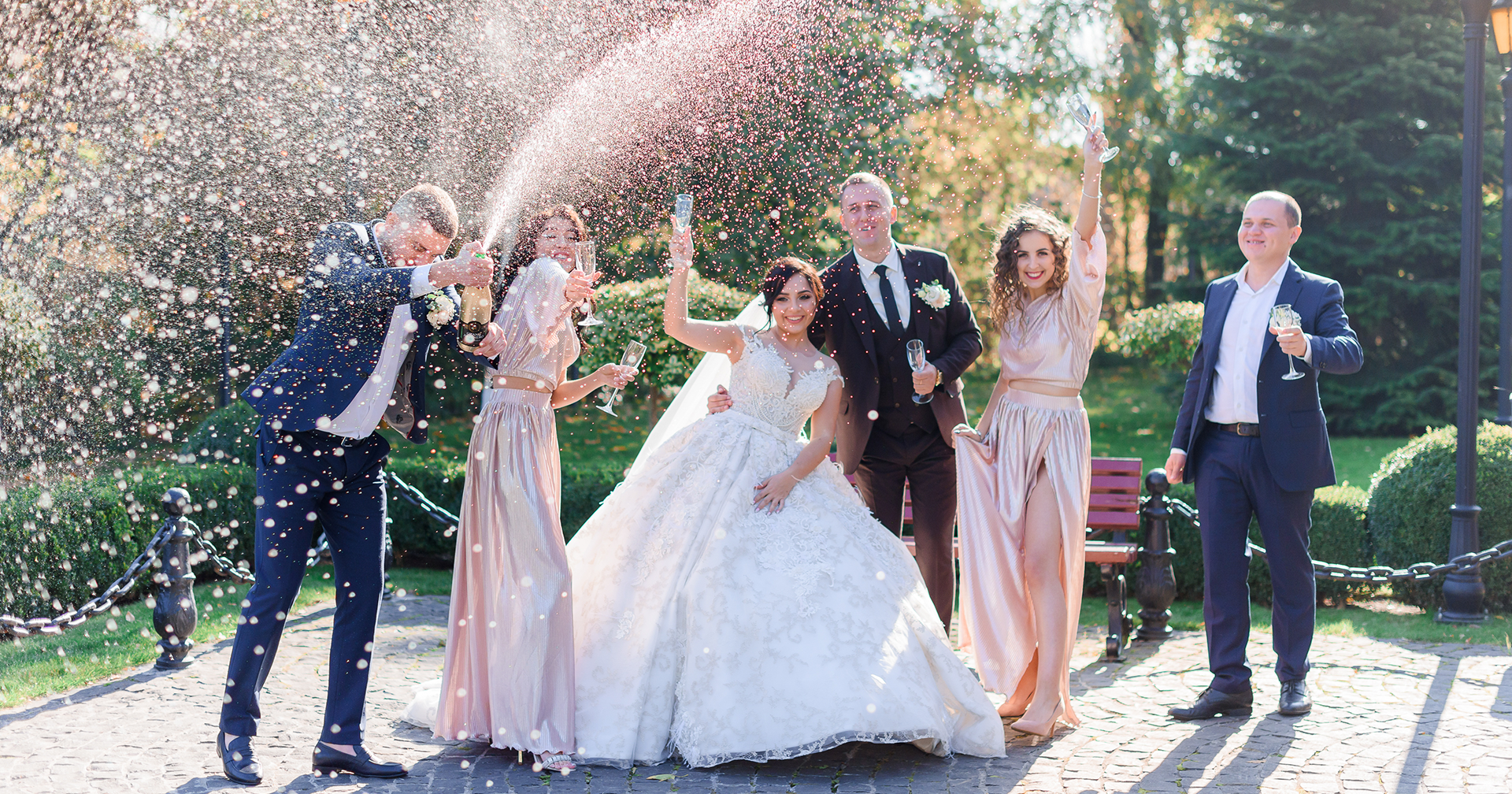 You don't have to sound stuffy or pretentious — formal writing can still be warm and friendly. Here are a few ideas you could try:
"We're so honored to be included in your special day. Best wishes for a long, happy life together."
"Thank you for inviting me to take part in such an important event in your lives. May you be blessed in your marriage."
"It was wonderful to celebrate this happy union. Wishing you all the best in your future together."
"Happiness and health to you both as you embark on this new phase of your lives. May you find joy in each day together."
"Lovely to have witnessed the beginning of your journey together. Wishing you the best today and always."
Making it Funny
For some people, it would seem inauthentic to leave humor out of a wedding card. If that's you, perhaps one of these lines may inspire you:
"So glad you finally found the right one, even if I'm out of a job now. Signed, your former wingman."
"When are you gonna have kids? Just kidding."
"Marriage, it's all about finding that special someone...to annoy you for the rest of your life."
"I guess there really is someone for everybody."
"Branjelina's got nothing on you, [blended name]!"
Including Words of Faith
Many beautiful cards include Scripture, proverbs, quotes from spiritual leaders, or other words of faith. Honor the couple's spiritual practice by including personal words of blessing, Bible verses, verses from the Tanakh, or inspirational quotes. However, it is proper etiquette to choose a card that celebrates the couple's spiritual practice rather than yours if they are not the same. If the couple isn't religious, it is better to choose a secular card and offer a generic blessing if you wish.
Writing Your Card for Friends
Choosing what to write in your personal wedding note to friends depends on a few different factors:
How well you know each other
The context of your friendship (you work together, childhood friends, college roommates, etc.)
The tone you want to strike (funny, poignant, casual, sentimental)
You could include something very general (but heartfelt) such as, "So glad we're friends and that our circle has widened today!" or funny, like "Congratulations to the best college roommate ever — it's so great you found a lifetime replacement for me! It would also be the perfect opportunity to sum up a great memory you shared or say why his or her friendship is so meaningful to you.
Writing Your Card for a Family Member
As with friendships, the right sentiment to include for a family member depends on how close you are. If you're not that close, keep it warm, cheerful, and congratulatory: "So happy to see my cousin find the perfect mate! Congratulations and best wishes for a beautiful life together." Otherwise, draw upon a special memory for inspiration or focus on welcoming the new member to the family. Take the opportunity to express your love and your gratitude for the relationship you have: "I don't know what I would have done without you in my life — you've always been my rock and greatest cheerleader. I love you, and I'm excited to get to know and love [spouse's name] too!"
Writing Your Brother or Sister
In most cases, your brother or sister has known you longer and more intimately than anyone else. They've seen your good and bad, been with you through your ups and downs, and shared many exclusive memories with you. Your personal wedding card note is a good time to reflect upon this and to express your love and wishes for his or her happiness. Writing something sentimental or funny (or both) is a great approach.
Writing Your Son or Daughter
Witnessing your son or daughter get married is one of parenting's big moments in life. Include a heartfelt note saying that you are proud of him or her and explain why. As a parent, you have the unique opportunity to offer a special blessing on the couple's marriage — don't underestimate the power and value of what you have to say. While this is their moment to shine, you can be a source of that light for them. Let your son or daughter know how much you treasure your relationship and that you look forward to cultivating one with his or her spouse as well.
Congratulating Your Coworker
If you consider your coworker a friend, you can use any of the friendship-related suggestions above. Otherwise, you can take a slightly more formal tone and congratulate the couple in one of these ways:
"Thanks so much for inviting me to your wedding! Enjoy your honeymoon, and I look forward to hearing about your vacation when you come back to work."
"Best wishes to a great couple. It's an honor to be a part of your special day."
"So glad to see a glimpse of your life outside of work! It looks like you have a great relationship and a wonderful life ahead."
Addressing an Elopement
Some couples choose to elope and have a private ceremony with a more traditional reception later on. For the most part, what you include in your personal note shouldn't be any different than if you were invited to a traditional wedding. You could, however, mention something like, "Knowing you and [spouse's name], I'm sure you had the perfect elopement ceremony. So thrilled to hear of your happy news," or "So fun to celebrate with you at the after-party!"
Dealing With a Postponement
No matter the cause of the postponement, your wedding card should still have a positive tone and express excitement about what's to come. If it seems appropriate to offer empathy or support, you can include a few words to that effect, but otherwise, say something along the lines of, "Whatever date you pick, we'll be there!" or "Looking forward to your big day no matter when it is!"
Coping With a Cancelation
In the unfortunate event the wedding is canceled, whoever has invited you is bound to feel disappointed, awkward, and apologetic. Although this is not the occasion to send an actual wedding card, he or she will certainly appreciate a handwritten note. It's best to strike a balance between validating any painful feelings and being encouraging and supportive. Some examples of what you could say include:
"We love you and are here for you no matter what."
"Take your time to process this all, but I'm here if you want to talk."
"It may take a little while to recapture your excitement and joy, but you'll get there. Sending you our love and support."
Wedding Thank You Card: FAQs
How Do I Write a Personal Note in a Wedding Card if I Don't Have a Good Relationship With the Person?
Less is probably more in this case, but don't turn down the opportunity to be gracious. Even if you don't share a good relationship, you were invited to the wedding and it's appropriate to offer a note of thanks and congratulations. A simple "Thank you for inviting me. Congratulations and best wishes for a happy life together" will suffice.
What Are Some Creative Ideas for Wedding Cards?
Create a postcard from a favorite photo of the couple (or of you and the person you know) and write a short message on the blank side.
Use watercolor paper and a wedding-themed stamping kit to make your own card.
Hire an artist or friend who's artistic to create a logo or original design for the couple.
Make a ransom-note style card out of words clipped from a magazine.
How Do I Write a Card for a Second Marriage?
Here are some do's and don'ts for that situation:
DO offer congratulations and best wishes.
DON'T mention former spouses.
DO mention children from both marriages, if there are any.
DON'T try to be funny by quoting marriage statistics or anything else that could offend either person.
In What Order Do I Write the Couple's Names?
It is customary to list the bride's name first and the groom's second, so that his first and last name are together. After the wedding, it's customary to write the husband's name first.
How Do You Write a Marriage Blessing?
Traditionally, a blessing asks for divine protection, approval, and unmerited gifts. You can quote promises from God in the Christian or Hebrew Bibles, ask God to protect the couple and give them great happiness, joy, success, etc., or you can offer these things yourself. When a person says a blessing over a couple, it usually means they approve of the union.
Hopefully, these ideas will inspire you to personalize your card the next time you're invited to a wedding.
For a great selection of occasion cards, visit Cards For Causes sforcauses.com to find the perfect one to suit your occasion.