Jan 24th 2020
When did people start sending Christmas cards?
Poor Sir Henry Cole had a problem. He was popular. Real popular. And in 1843 England that meant lots of Christmas and New Year's letters from all sorts of important people. With the English penny post, it was real popular to send those letters, and in Victorian England it was really rude to not answer. What's a popular civil servant to do?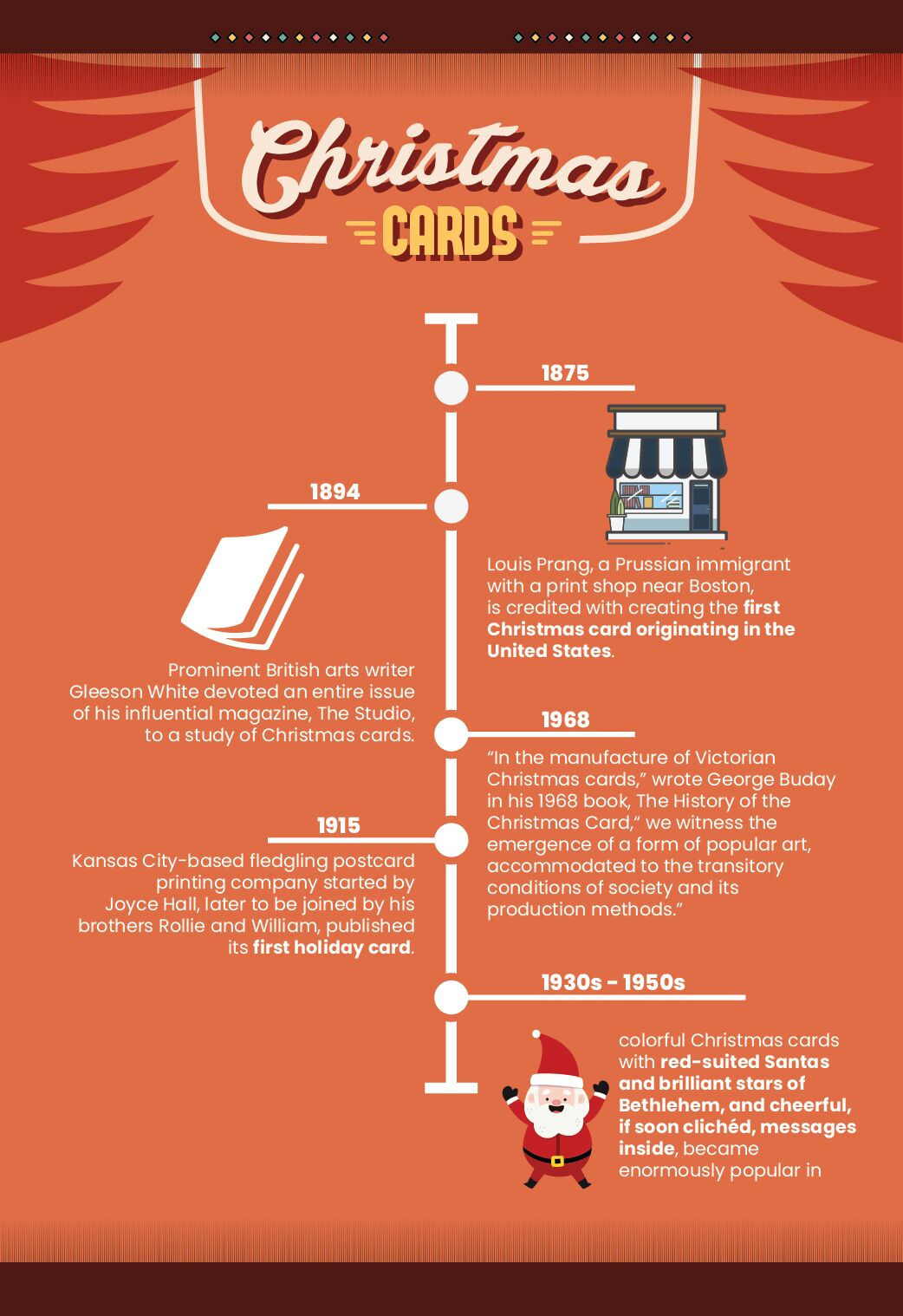 Well, Cole went to artist JC Horsely to illustrate an idea Cole had. He then took the art to a printer and had 1,000 copies made. A stiff piece of cardboard smaller than a modern envelope, the card had a triptych of a family sharing dinner with bordering panels of acts of charity. He could personalize the postcard Christmas cards with a signed salutation, and the message, "Merry Christmas and a Happy New Year to You" became history.
Important people like a great idea and after a few years Cole's caught on. It took several decades for it to become really widespread though. In 1875 German immigrant Louis Sprang started printing cards for America in a Boston print shop. It wasn't until 1915 that Joyce Hall printed his first card in Kansas City. In business with his brothers, a decade later Hallmark abandoned the postcard style, made a bigger format, closer to today's standard, put the Christmas cards in an envelope and an industry was born.
Christmas cards are still popular despite the e-revolution. 1.6 billion were sent in 2018 in the US. In fact, holiday card mail is declining slower than other snailmail in the modern world. Custom Christmas cards benefit from modern technology too. You don't have to be a Sir Henry Cole with connections to create your own customized mass print cards. And business benefit from personalization as well. Business Christmas cards are a great way to maintain contact with clients, customers, suppliers, and associates. Sending cards has not gone away as a tradition, and neither has the tradition of cards contributing to charity.
Cards for Cause dedicates 20% of sales to any number of charities you can choose from. So this Christmas, remember to send a message of love to those you care for, and contribute to a cause worth helping with custom Christmas cards from Cards for Causes. And Merry Christmas and a Happy New Year to you.