Sep 15th 2021
Budget-Friendly Party Ideas for the Holiday Season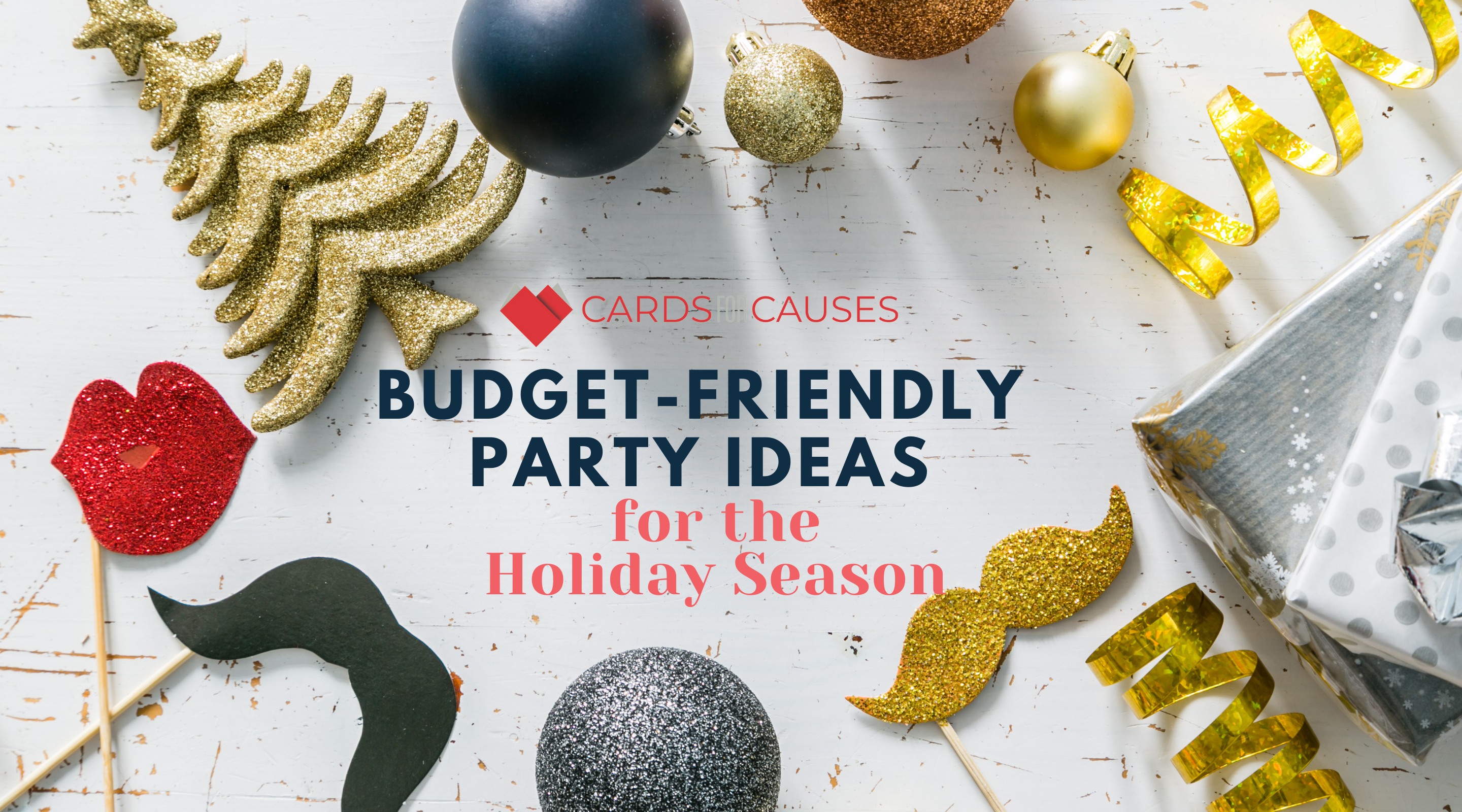 As the holidays approach, festivities are everywhere, and you've likely got more than a few invitations to parties and gatherings. Perhaps you're planning on throwing your own, though, and wondering how you can host budget-friendly festivities for all. These party ideas will get you started on the right track so you can host the party of the century without breaking the bank.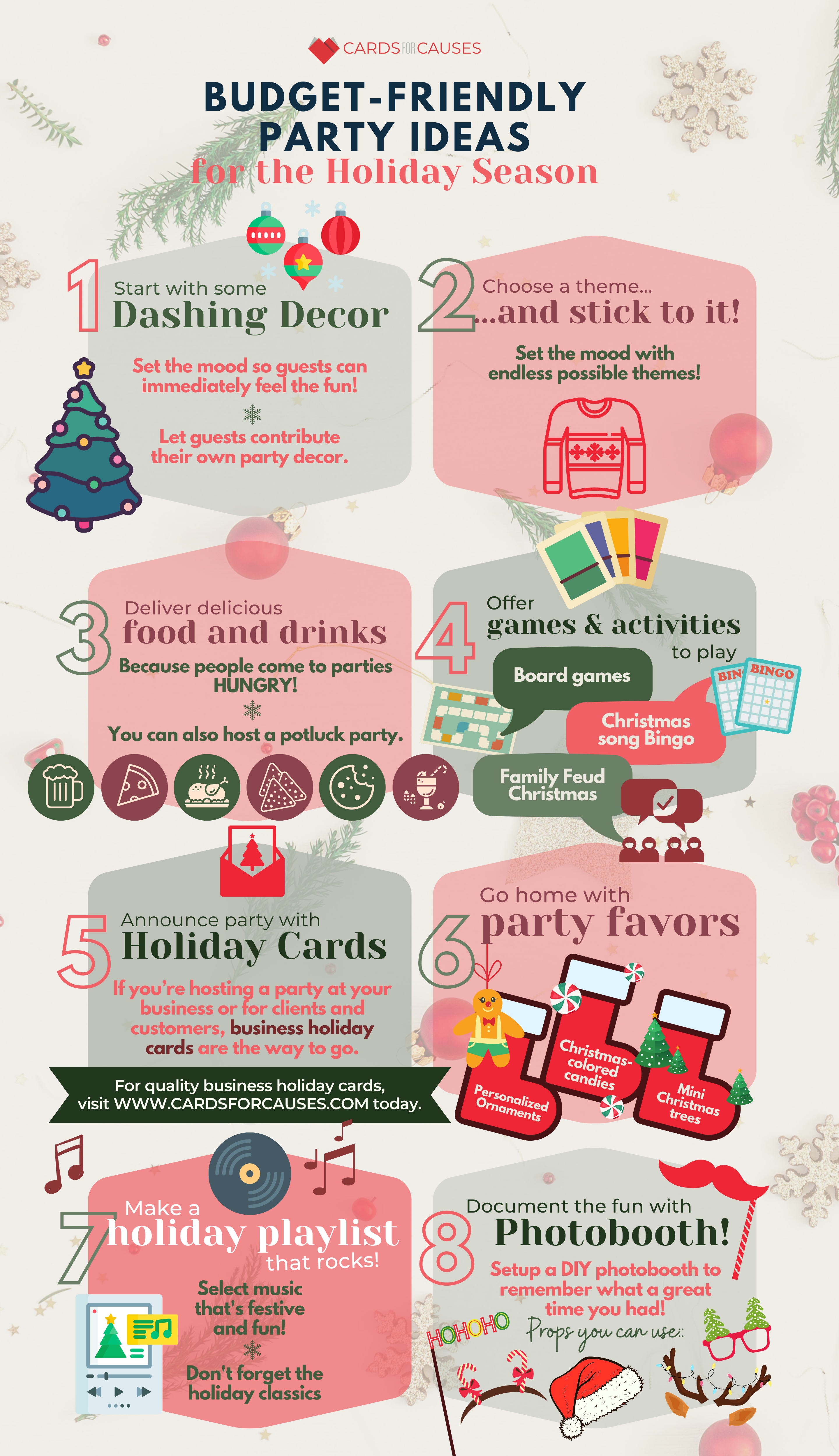 Start With Some Dashing Decor
The first key to throwing a great party is setting the mood. When guests walk in, you want them to immediately feel the fun. What better way to accomplish this than with festive décor? Décor for holiday parties can include garlands, brightly-colored tablecloths, strings of ornaments, and mini Christmas trees. You can even invite guests to contribute their own decorations as part of the party's festivities. Let partygoers create garlands to hang on the walls!
Choose a Theme…and Stick to It!

Décor sets the mood, but theme is the mood itself. There are endless possibilities for themes when you are throwing a holiday party. Some of the most popular ideas to consider include the following:
Ugly Christmas sweater contest
A storybook Christmas adventure
White elephant gift-giving event
Celebrating Christmas in Vegas
You can take a poll amongst prospective guests to see which theme is the most popular…but you can't go wrong with one of these! Encourage partygoers to stick to the theme when they attend.
Deliver Delicious Food and Drinks
People come to parties hungry. It's not a proper function unless you're serving hors d'oeuvres to nibble on and drinks to sip from. If you want your party to be a hit, here are some easy-on-the-budget ideas for food:
Sausage balls
Deviled eggs
Veggie chips
Fresh vegetables with dip
Charcuterie board
Christmas cookies
When it comes to drinks, these are some popular options:
Holiday punch
Eggnog
Spiced rum
Warm apple cider
If you'd like, you can also host a potluck-style party and encourage guests to bring their own food and drinks. This is a great way to eliminate the cost of food and drinks from your budget while still having a great selection for guests to enjoy.
Offer Games and Activities to Play
When partygoers aren't chatting with each other and enjoying the décor you've set up, they might want to enjoy other activities, such as games. There's nothing better than playing fun party games with friends and family, especially when it's holiday-themed. Music-based games are always a hit — ask guests to Name That Christmas Song, with the fastest correct answerer being the winner! Alternately, play Christmas song bingo, and let guests fill out a bingo card with the titles of Christmas songs as you play short clips.
Announce the Party with Holiday Cards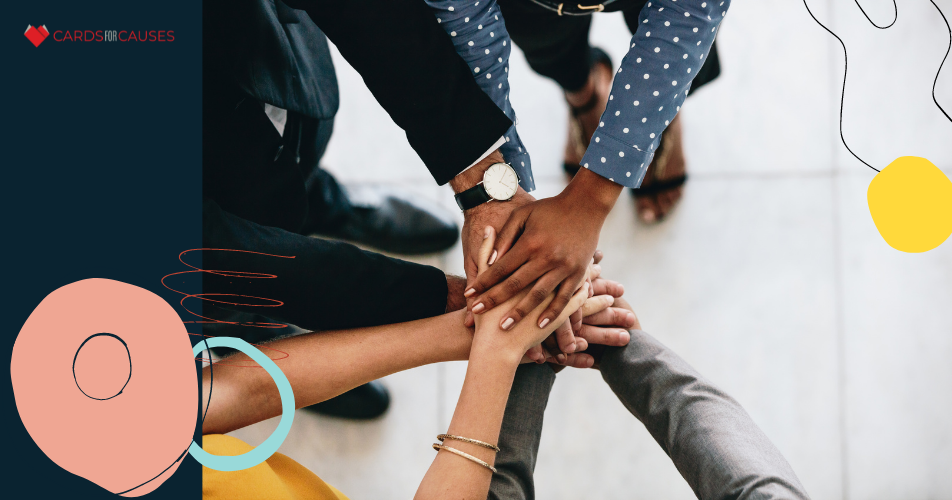 When it comes time to send out invitations, custom holiday cards are a great way to announce your party and wish friends and family a merry Christmas. If you're hosting a party at your business or for clients and customers, business holiday cards are the way to go. When you send out the invites, you want to make sure that:
The card is professional looking
You select a durable card stock material
It is addressed with the correct title
Business Christmas cards are ideal for connecting with clientele and colleagues — make sure they create a good impression that makes guests want to attend!
Let Guests Go Home with Party Favors
One of the best parts of attending a party is going home with a keepsake to remind you of good times shared with friends. If you're hosting a Christmas party, it's especially appropriate to leave guests with a parting gift. Some affordable ideas include:
Personalized ornaments
Christmas-colored candies
Mini Christmas trees
You can also create a party favor grab-bag that lets guests choose a wrapped mystery gift!
Make a Holiday Playlist That Rocks
Another important element of a party's mood is selecting music that's festive and fun. Luckily, when it comes to Christmas, there are plenty of playlists to set the mood just right. Look for a mix of holiday classics as well as newer jams to create a vibe that appeals to everybody — and, whatever you do, don't forget Mariah Carey.
Document the Fun with a Photo Booth
At the end of a party, you want to remember what a good time you had! Setting up a DIY photo booth is a great way to offers guests this experience without the expense of renting a professional booth. Add some props, such as the following:
Santa hats, of course
Ugly Christmas sweaters
Garlands and ornaments
Your partygoers will love creating memories at the DIY photo booth and sharing them on social media, too.
Why should small business owners throw a holiday party?
Small business owners should throw holiday parties to express customer appreciation and promote special holiday season deals.
How can I use a holiday party for marketing?
If you're throwing your party at a storefront, it's already a great marketing tool, just by getting people into your store!
When should I throw my holiday party?
The holiday season is busy for everybody, and you want to throw your party before the madness of Christmas really hits. Aim for the first or second week of December.
When should I send out my custom holiday cards invitations?
If you plan your party for the first or second week of December, you should send out business holiday cards soon after Thanksgiving.
Who should be invited to a holiday party?
It's up to you who you'd like to invite, but including customers and business colleagues — in addition to friends and family — is a great way to make everybody feel welcome.
Throw the Party of the Year
The holiday season can be stressful and hectic, but it can also be a time for celebration and festivity! Throwing a party is a great way to focus on the fun parts of the season and connect with the people you care about the most. If you're planning a holiday party event, sending out business Christmas cards is a great tool for letting people know you're thinking of them. Choose from countless designs from Cards for Causes to connect with customers and spread holiday cheer.
---
Best Holiday Greeting Cards
At Card for Causes, we have cards for every occasion. During the holiday season, you want to spread some cheer with the people you love. The following 10 custom holiday cards are perfect for showing friends, family and others that you care about them: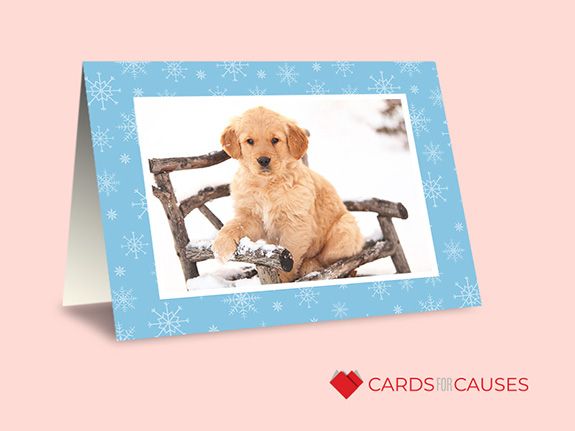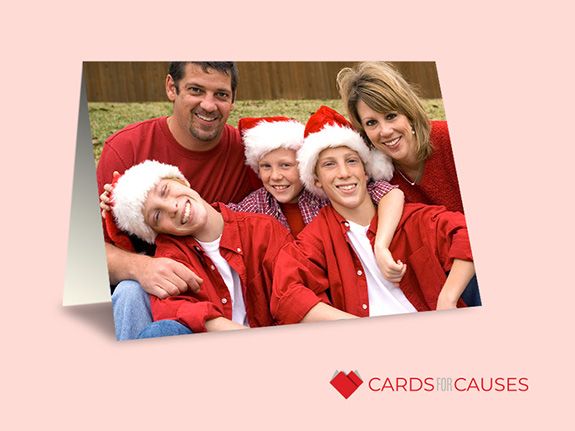 Shop - A Borderless Horizontal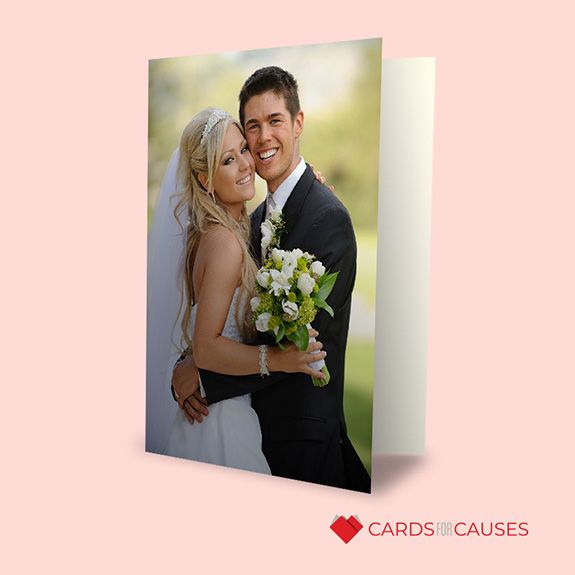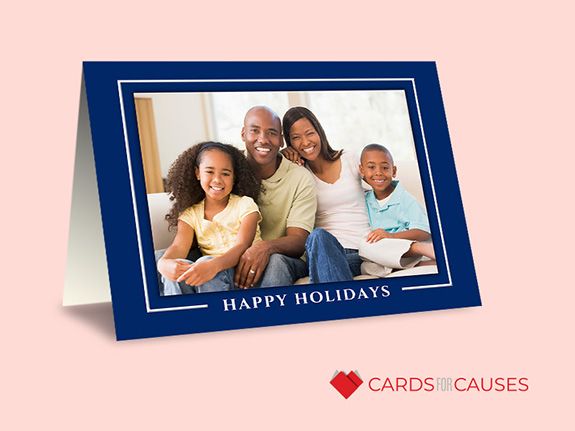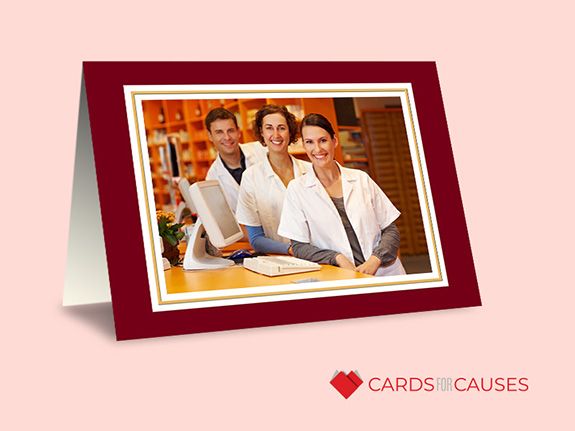 Shop - Classic Photo Horizontal
Gift Wrap Photos - Matte Finish Christmas Card: The holiday season is a time for giving gifts. So, try this card with a gift-wrapping design. It features spaces for three custom photos separated by a ribbon design. Plus, there is a "gift tag" with space for your custom message.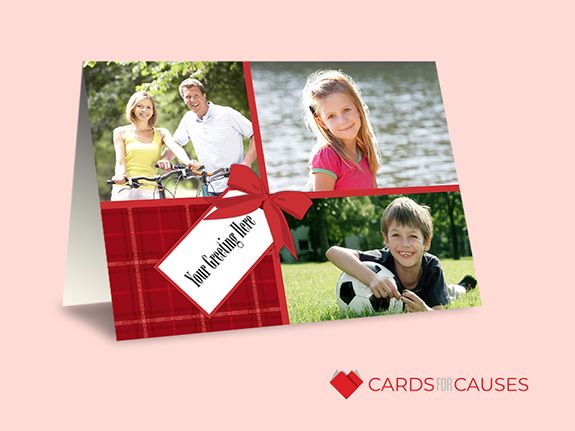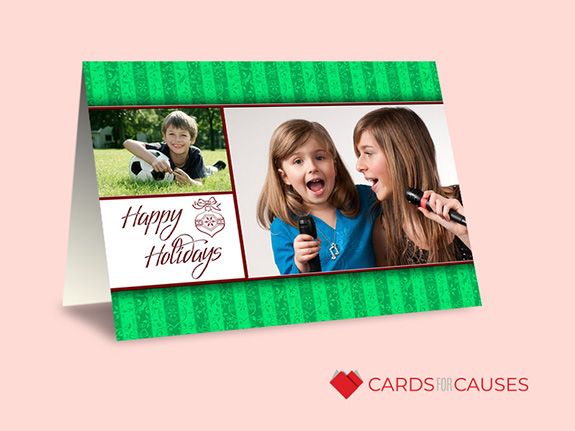 Three Photos - Matte Finish Christmas Card: For a portrait-oriented, multi-photo design, this is a good option. There is space for a large photo at the top and two smaller photos below. Between the two levels is a greeting with a red and white snowflake pattern.