Apr 8th 2022
Thank You Card for Teachers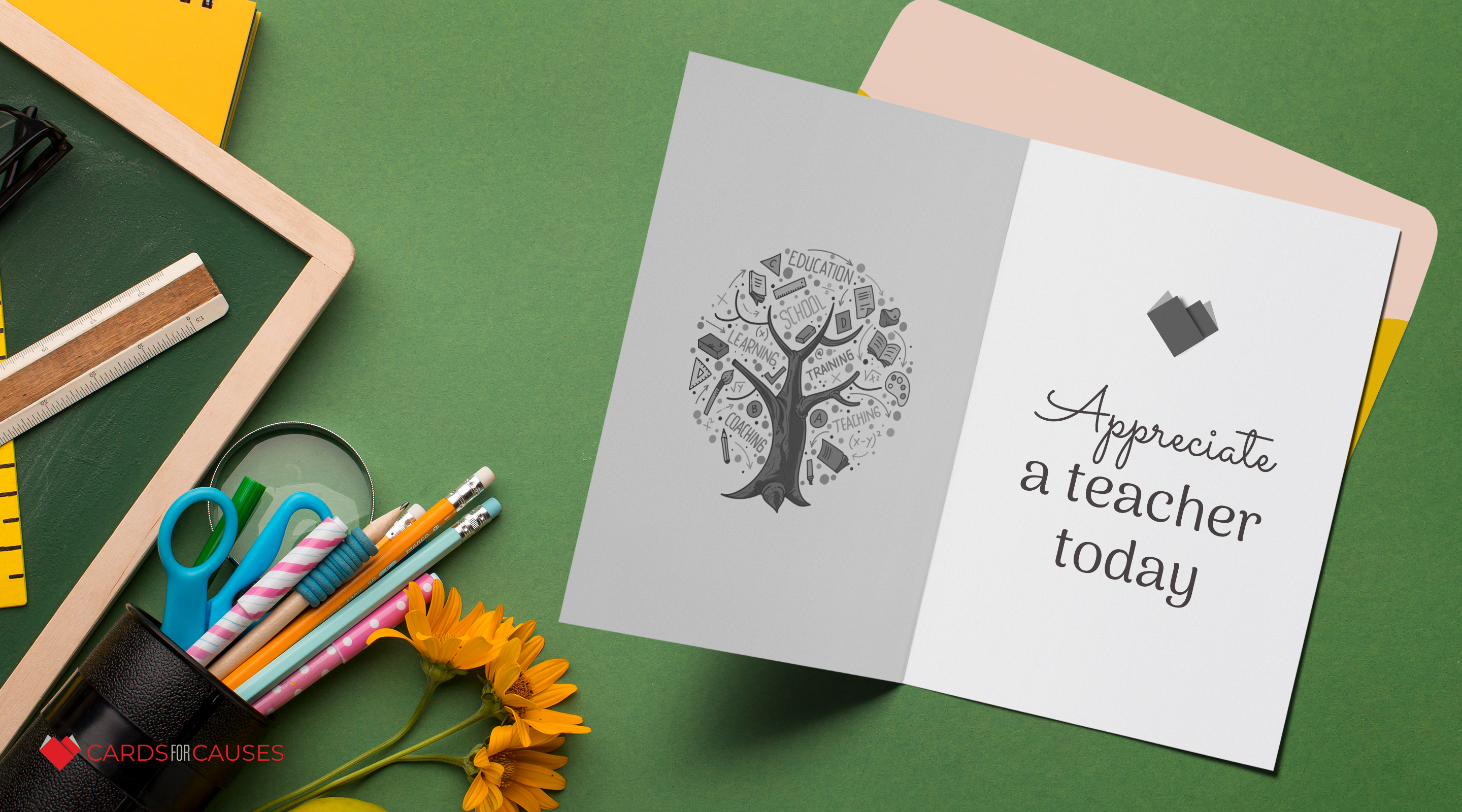 How To Thank a Teacher
Teachers have long been admired for their tenacity and patience in the classroom. Apples, mugs, and fuzzy pens once reigned top of the list for educators across the globe. However, most teachers have a plethora of mugs and enough writing utensils to build a bridge over a small waterway. The best way to show appreciation is to put a heartfelt message of gratitude alongside a gift card to their favorite place inside a thank you card for teachers.
Choosing Just the Right Card
Like not every teacher teaches every subject, not every card is suitable for every teacher. Some teachers are better at math, and others shine in orchestra classes. Since every teacher is different, choosing the right card can be challenging. The best way to select the right card is to think about which card best resonates with you and then decide how to customize your message for each teacher. The educator in your life will better appreciate a thank you card that is closely aligned to your personality.
Thinking About the Big Picture
While appreciation thank you cards for teachers with gift cards for coffee or tea are a fantastic way to start winter or summer break, you should also consider the economic practicality of ordering in bulk. Great options for versatile expressions of gratitude include a well-rounded selection of thank you cards. For example, if you have children that have just started school, using the cards for the next 12 or more years will be advantageous. However, there is never a wrong time to express gratitude, so think about a card that makes sense outside the school building too.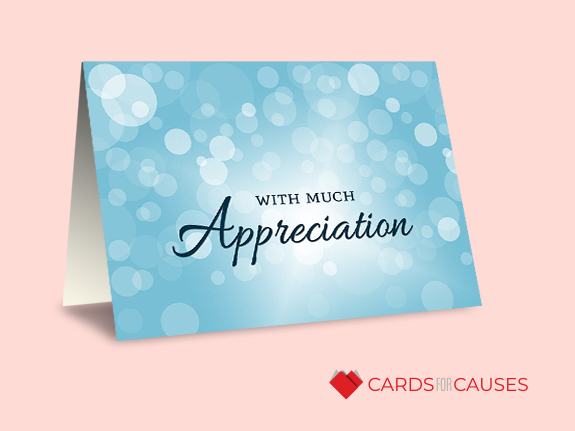 Shop - Appreciation Bubbles Thank You Card
The bubbles thank you card is blue with whimsical white bubbles reminiscent of bokeh lights. The front reads, with much appreciation. The inside is fully customizable.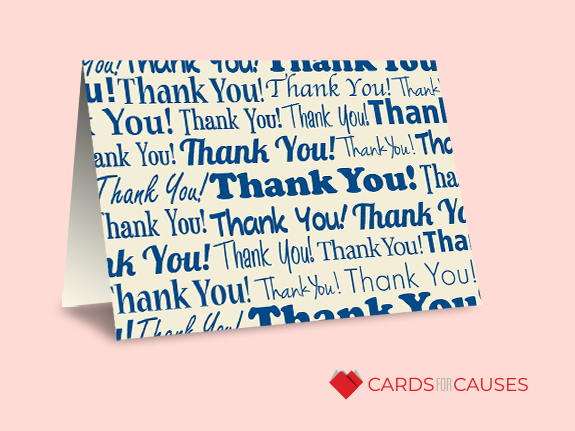 Shop - Can't Say It Enough Thank You Card
If you want to drive the appreciation home, these thank you cards read thank you repeatedly on the front in multiple fonts. The background is a neutral cream color with a bold but classy navy blue contrast. The inside is fully customizable.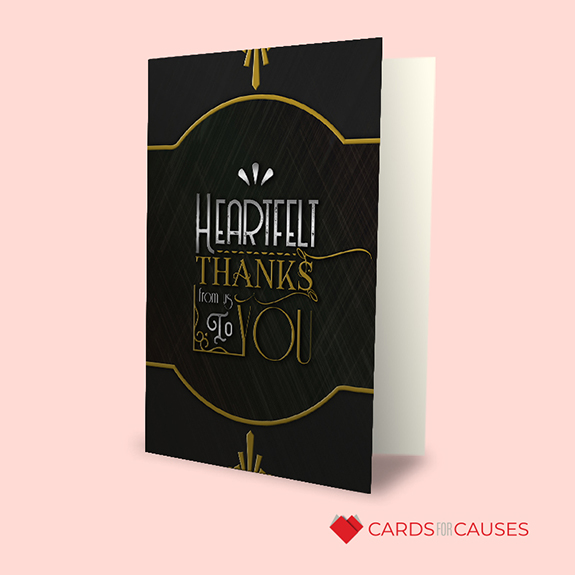 This black and gold art deco-style thank you card for teachers gives appreciation a gilded nuance for more elegant occasions.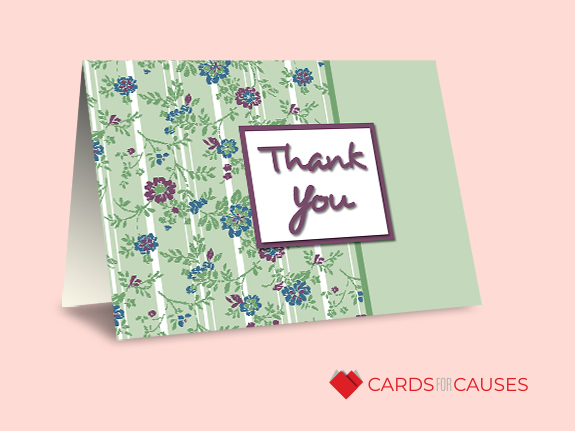 Flowers and stripes adorn this light green thank you card. Purple letters spell out, thank you, in a clean script while the inside remains fully customizable.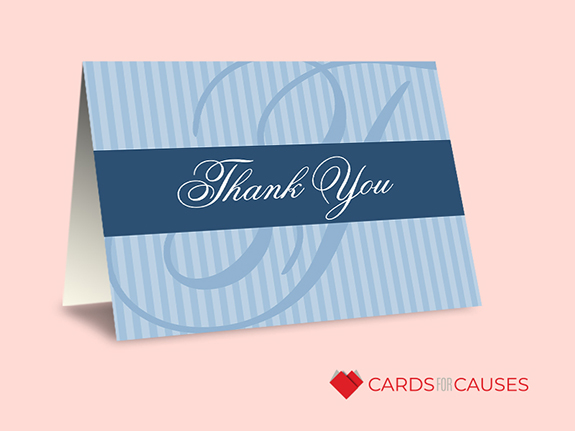 The classic appreciation thank you card is suitable for teachers, business leaders, or troop leaders. It can be a fine reminder for family far away that you appreciated the socks they gave you this year. The inside is fully customizable.
Making the Message Customizable
Customizable cards that allow you to add your own message are ideal for keeping thank you cards that are useful for any situation. You can also customize cards to include your photo to let recipients know how gracious you are. Cards can be customized to include a charity line if you order through Cards for Causes, detailing which charity you donated 20% to while making your purchase; there are plenty to choose from, or you can submit a form to add one for consideration.
For more information on how to fully customize your thank you card or which causes you can choose from, contact Cards for Causes for more information today.
How do you pick the proper thank you card for teachers?
Great question! The best way to choose a thank you card that is right for the educators in your life is to browse the selection at Cards for Causes. Find a few options you like and compare the cost and ordering options.
Where are Cards for Causes made?
Great question! Cards for causes are made right here in the United States, and, speaking of gratitude, we're thankful for that.
Is it smarter to buy thank you cards in bulk?
A: Yes! Buying thank you cards in bulk helps you save money. You can leave some of the customizable features blank so that the cards will work for any recipient.
Can I choose which charity my 20% donation goes to?
You can! You can choose from a selection of charities that we have preselected. If you don't like those options, you can fill out a form for us to consider the charity of your choice.
Can I add a photo inside my appreciation thank you cards?
Yes! Many of the thank you cards that we offer are fully customizable, including the option to add photos as part of the printing process.