Sep 29th 2021
How to use bulk Christmas cards to increase Sales
The holidays are about joy and time spent with those you love. This time of year, especially, we want to tell the people we care about how much we appreciate them. As a small business owner, your mind might also wander to your customers…how can you tell them that you appreciate their business? How can you connect with your clientele during this season to sincerely thank them? Business Christmas cards are an incredible opportunity to accomplish this and see your sales rise while doing so.

Go for Traditional, Not Digital
As soon as holidays are around the corner, every business will be inundating your inbox with digital Christmas cards, touting upcoming sales and telling you that you need to buy their products for your loved ones. Even those emails that are more reserved have an impersonal tone when delivered through a screen. It's hard to take business Christmas cards seriously that are digital, so it's best to stay traditional and invest in bulk Christmas cards instead.
Opt for High-Quality Card Stock
Sending physical Christmas cards is the way to go, but how do you know which cards are the best ones? You don't want to go to the trouble of sending a card and deliver flimsy, cheap looking letters. Start at the beginning and select a high-quality holiday card stock. Card stock offers a number of benefits, including:
An array of colors to choose from
Select matte, glossy, or textured surface
Sturdy for durability and handling
Choose from festive holiday colors like red and green to make a statement. Card stock will endure handling in the mail and creates an impression of professionalism.
Make Sure Mailing Lists Are Current
Of course, before you start your mailing campaign, it is imperative that you make sure your mailing lists are up to date. Refresh your mailing lists by reaching out to customers to confirm that the address you have on file is correct. Furthermore, you should take the opportunity to wish them happy holidays and connect with customers you may not have seen in a while. If you cannot reach customers by phone, send emails, or letters with self-addressed and stamped envelopes.
Take the Time to Personalize
Buying bulk Christmas cards for business mailing is a great way to save money and ensure you can send cards to every customer on your list. Buying bulk doesn't mean you can't personalize the cards, though — in fact, it can make it easier to do so. Take the time to personalize your Christmas cards with information like the following:
The name and salutation of the addressee
Note to them and their family, if applicable
Thank you for the support they've given
These elements of personalization can take a generic card and turn it into a memorable holiday keepsake for recipients. Taking the time to personalize a Christmas card shows your customers that they are truly appreciated — and a customer who feels appreciated is more likely to come back!
Be Respectful of Your Customers' Diversity
It should be said that bulk Christmas cards may not be applicable for every recipient. Customers who celebrate holidays such as Eid Al-Fitr, Hanukkah, or Kwanzaa should not be left out of the celebration. If you are unsure of what holiday a person observes, you may respectfully ask, and then deliver a card accordingly. There are plenty of diverse holiday cards available on the internet, and it demonstrates a remarkable level of care to go out of your way to find one. Recipients will surely appreciate your consideration.
Mail Christmas Cards to Customers Early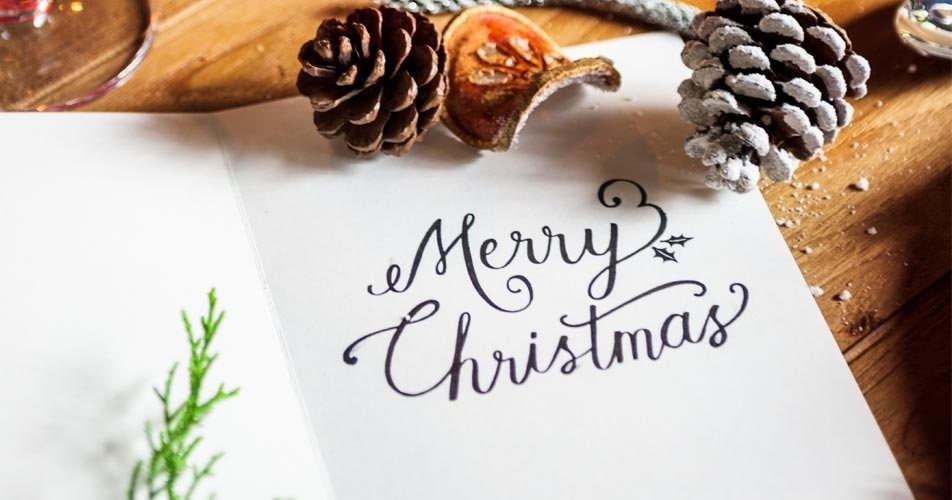 The closer you get to Christmas, the more advertising and obligatory holiday cheer you are subjected to. This can be stressful, and it means that your holiday message can easily get lost in the mix if it's just one of a dozen cards a person receives as the holiday approach. Rather than letting your effort go to waste, get a head start by sending out your bulk Christmas cards early. This is a great way to show recipients that you are thinking of them before the madness of the holidays sets in. Some of the other advantages of sending cards out early include:
Minimize chances that the cards will be lost in the mail
Give recipients a chance to respond to the card
If cards include special deals, give customers time to use them
Mailing your cards early gets one thing off your to-do list and gives customers a chance to come shop with you before the holidays arrive, thus increasing sales!
Address Your Customers by the Correct Titles
An oft-overlooked detail of sending out Christmas cards is ensuring that you are using the correct titles when doing so. Always use titles such as Mr., Ms., and Mrs., in order to maintain a sense of professionalism and demonstrate respect for the recipient. You may be delivering cards to other businesses, and if so, it is ideal to still address the card to the owner of the business and include the correct title before their name. Some might consider this to be of little importance, but it makes a great first impression before a person even opens the card!
Deliver Cards by Hand When You Can
Christmas cards are all about expressing appreciation, especially for small business owners who want to thank loyal customers or business colleagues. You can take this expression of appreciation one step further by delivering your Christmas cards by hand, in person. Everybody loves getting a card in the mail, but it's even more special to see the recipient and hand it to them directly. If you have cards for regular customers, hold on to the cards until you see them. If you plan to deliver cards to business neighbors or colleagues, take the time to go visit them when you give them the card.
Why should small business owners send holiday cards?
Small business owners should send out holiday cards to express their appreciation to customers and maintain contact with their clientele.
What should be written inside a holiday card?
When you send a holiday card, it's a good idea to personalize it. This may include the recipient's name, a general happy holidays message, and a more personal note, too, if possible.
What kind of design should I choose for my holiday cards?
There are plenty of different designs available for business Christmas cards. It's up to you to find one that matches the tone of your business.
When I send my holiday cards, should I include anything?
Some people like to include discounts or deals with holiday cards, which can be a great marketing opportunity. If you're looking to boost sales, this is a good way to do so!
What holidays should I send cards for?
Of course, the most obvious holiday opportunity is Christmas and other December holidays. You can send cards for any holiday, though!
Wish Your Customers Happy Holidays
The holidays are an opportunity for you to forge genuine connections with your customers and boost your sales in the process. Whether you're planning to send out cards to 200 recipients or 20, bulk Christmas cards for business are a great way to keep your business at the forefront of client's minds while also wishing them happy holidays. Cards for Causes has an array of holiday designs that allow you to connect over the holidays and boost your profile in the process.